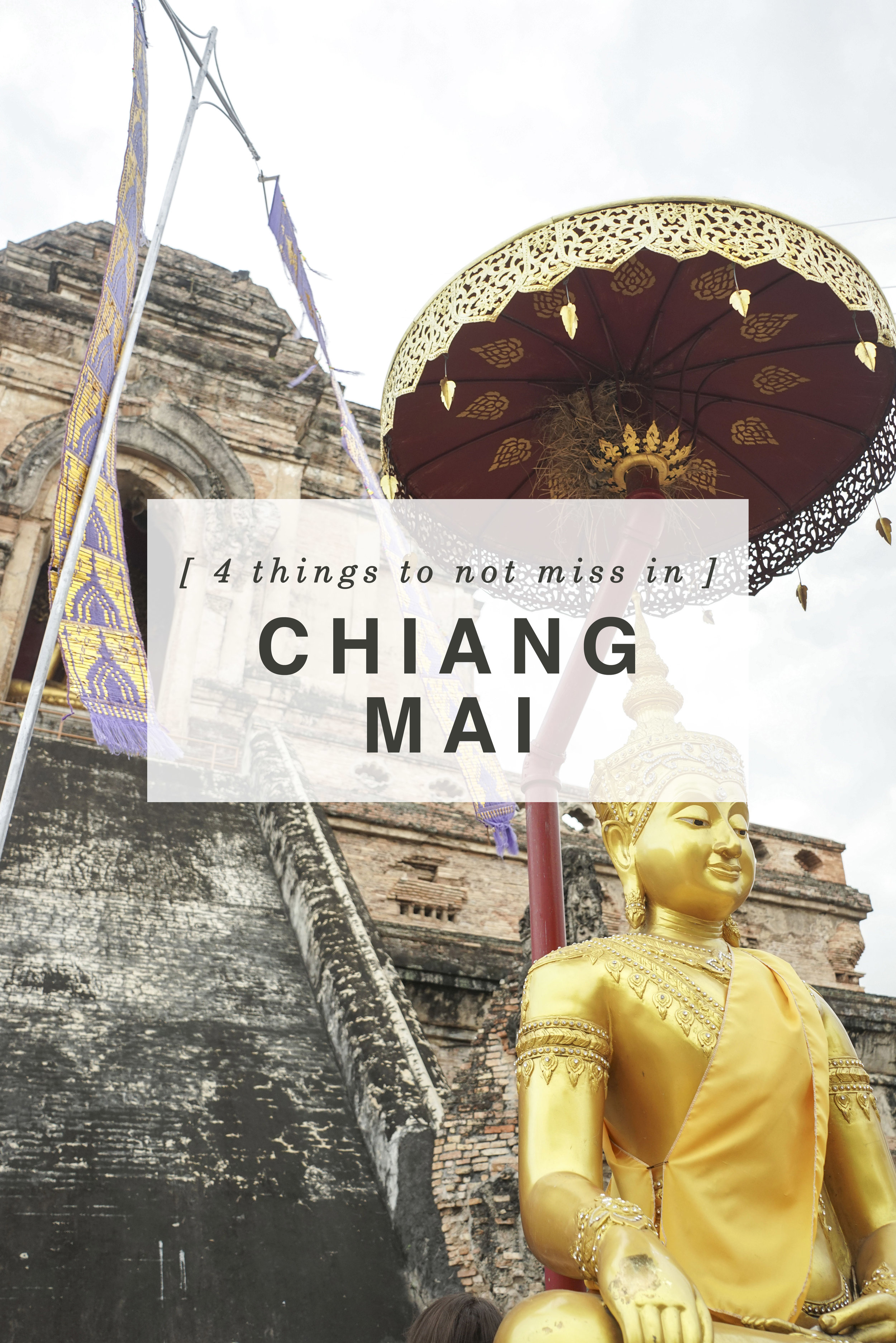 If you plan on heading to northern Thailand - which if you're not, you most definitely should change your plans - Chiang Mai should be at the top of your list. The northern part of the country is pretty different from the south, the islands and even Bangkok. The food was a little different and weather is a little cooler, which during the hot season is great.
WAT SUAN DOK
Located outside of the Suan Dok gate on the west side of the old city. I think this was my favorite temple we visited by far probably because I'm a sucker for anything pure white with a touch of gold. This though was a little more than a touch of gold. The main part of the temple is this beautiful, spherical structure that, as you can see from the pictures, steals the show. We spent a crazy amount of time here taking pictures because it was just that pretty and so serene. Also, it's probably because we had one of the best meals just around the corner from this temple. No idea what it was (no it wasn't curry or pad thai), but oh was it delicious and under $2 for two people.
WAT CHEDI LUANG
Located in the middle of the old city, we hoped in a city taxi to get to this temple. It also took us a few minutes to realize we were in a taxi because this truck pulled up to us, asked us where we were going and told us 30 baht, so we hoped in. That sounds sketchy writing that, but it wasn't at all at the time considering there were other people inside. They just definitely were not the metered taxis that we're all used to and literally were just benches put into the bed of a pick-up truck with a cover on it. The back was open to jump in and out of. I'm just going to go with city taxi.
There is small fee to enter Wat Chedi Luang. At first you enter a temple that looks much like other temples you can see around Thailand. In here, you can find a Buddhist monk where you can get blessed. I did this! It was an awesome experience. I actually thought that was it, but then we walked around to the back of that building and I couldn't believe my eyes. Unlike a lot of the temples you see in Thailand, there is absolutely no gold covering this one. It was a lot more organic and still breathtaking even though there was damage to it during an earthquake.
NIGHT Bazaar
The Night Bazaar is east of the old city and is one of the best spots you can shop and eat in Chiang Mai. I'm telling you the great hall area, well, not really hall, more like tented structure, is filled with everything you want and don't need. I ended up with everything from kaffir lime leaves, to a handmade christmas ornament and a painting. Random, right? There are stalls everywhere - they even line the main street, not just the main bazaar area.
Shop till you drop, but don't forget the most important part - bargaining! And just to toot my own horn, I'm really good at bargaining. After bargaining for a very real looking genuine fake designer bag in Bangkok, the seller told me that I was a little too good. I'll give you pointers if you want!
STREET FOOD
If I could eat the food from the street cart that was outside of my airbnb during my stay in Chiang Mai everyday, I would be one happy camper. The sausages and meat they sell are so flavorful that I can still taste it now. One night we got back later from our tour than expected. It was so late that we wanted to quickly grab something and go back to our airbnb. Instead of grabbing something from instead the local convenience store, we notice a few food carts. They didn't speak much English, but it didn't matter. Food is a universal language, right? I got a sausage and a pork rib. My sausage had pieces of rice in it and one of the best flavors I've ever had.
I didn't get a chance to visit Wat Phra Thai Doi Suthep due to lack of time, but I'm adding it to this list as an honorable mention. I've heard it's absolutely gorgeous up on the hill.
I hope one day that I get to travel to Chiang Mai again. Only a couple days spent here was definitely not enough. And I hope one day all of you will get to visit these can't miss sites! Yes, there are a ton more things to not miss, don't worry I've got more Chiang Mai posts coming down the pipeline!
Yours Truly // Shannon