I've said a couple times that my plans in Europe didn't go exactly as planned. Really though, when does life always go as planned? When life gives you lemons, you make lemonade. I had planned to do a long weekend road trip around Ireland my second week in Europe with one of my friends. Plans took a drastic change when my friend learned he needed to fly home for a family emergency.
I kind of surprised myself with my response. At first I was a little bummed because we literally were cancelling all of our plans and I was going to be one country down. Not to mention, I've always wanted to go to Ireland. Well, specifically Shannon, Ireland. I think that's an obvious one right? However, I decided not to let the weekend go to waste and rebooked my flights to go to Dublin alone!
Alone, that's one thing I'm not good at usually, especially when traveling. I'm not one that wanted to go on a solo trip or anything. I surprised myself though and became ok with the solo travel. Turns out, I didn't end up alone at all. The powers of social media came through and I basically had plans with two new friends fall into my lap.
So, here was the grand challenge I had. How do I still see a lot of Ireland without renting a car to tour the country? I was flying in and out of Dublin and at least wanted to make seeing the Cliffs of Moher happen. I succeeded and now I'm here to tell you how I did it! Here's a 2-3 day itinerary for Ireland while based in Dublin.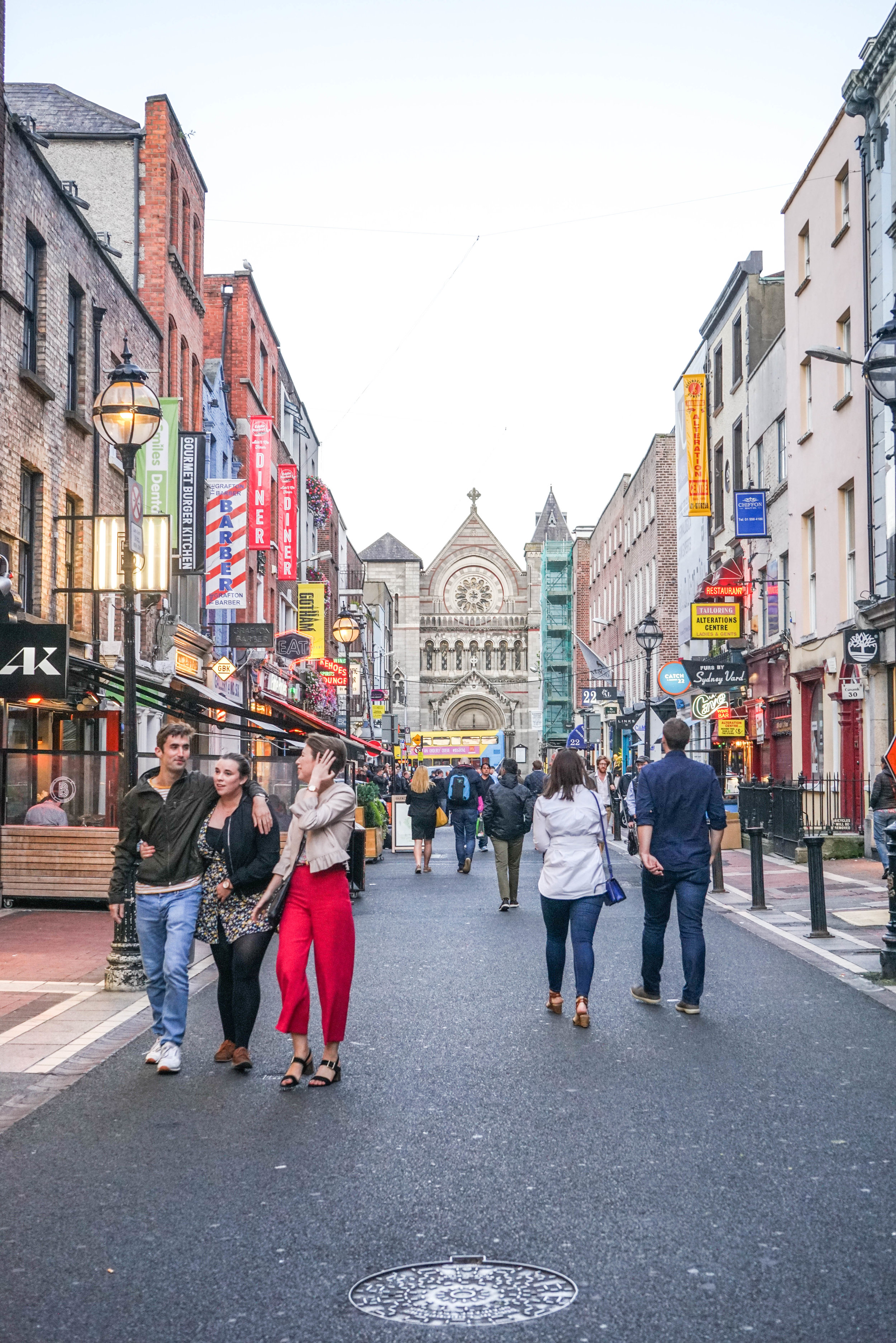 DAY ONE
DUBLIN WALKING TOUR
Hopefully its not raining when you first arrive in Dublin. Even if it is, grab an umbrella and set out to wander around town.
GRAFTON STREET - One of the main streets to roam down. There are a plethora of shops and restaurants on Grafton or on adjoining side streets. This street is so full of life and Irish spirit. You'll most definitely pass multiple extremely talented street entertainers. Apparently, each performer has to sign up for their spot and time slot on Grafton. The most organized street performers I've heard of and boy are they talented.
MOLLY MALONE STATUE - The Molly Malone statue is worth a stop along your walk. There's an old Irish folklore about miss Molly. Find an Irish friend to tell you her story.
CHRIST CHURCH CATHEDRAL - This beautiful church will leave you in awe. It's that grand.
ST. PATRICK'S CATHEDRAL - Another stunning church to pay a visit to. St. Patricks has a giant lawn surrounding it. If it's a dry day, it's the perfect place to have a snack, hang out and people watch. Especially if you need to soak in the sun after some rainy days.
GUINNESS FACTORY OR JAMESON DISTILLERY - Everyone says that no visit to Dublin let alone Ireland is complete without a visit to the Guinness factory. I had every intention of visiting with my friend who likes Guinness, but I don't actually like Guinness so I headed across the river to the Jameson Distillery. I can't resist a Ja-mo Ginger. Take a tour at either, or really both. They'll both get you nice and liquored up!
TEMPLE BAR - Contrary to what you may think, the Temple Bar isn't just one bar in Dublin, it's actually an area. And a lively area I might add. Come here for drinks, or multiple drinks. Also, there also is a pub called Temple Bar, confusing I know.
DAY TWO
CLIFFS OF MOHER TOUR
This one will be a long day to venture across the country to the west coast of Ireland. I quickly learned that there are multiple bus and tour companies that offer day trips to visit the Cliffs of Moher and more sights in the west. I booked a tour with Paddywagon Tours which I highly recommend. The day starts by meeting the bus at 8am near the Molly Malone statue. After seeing all of the sights, you'll return to Dublin most likely between 7pm-8pm. There are multiple other tours to choose from that are slightly shorter and overnight, as well.
Hopefully it won't be pouring cats and dogs on your tour day as it was on ours. I don't think we saw as much as could have because it was so foggy you couldn't see anything and was non-stop pouring. That is until we got to the Cliffs of Moher. Funny story short, the Cliffs of Moher closed when we arrived because of extreme wind but our driver was determined to have us see the cliffs. So, our whole tour group may have hopped a fence, climbed a hill and saw a different view of those magnificent cliffs. Do beware, it really is crazy windy there. The wind took my feet out from under me and I strained my wrist, but I survived!
There is wifi on the bus and a restroom should you need. The tour goes to:
DUNGUAIRE CASTLE
CLIFFS OF MOHER
DOOLIN
DURTY NELLY'S TRADITIONAL COUNTRY PUB
Check out Paddywagon Tours, here.
[OPTIONAL] DAY 3
ADDITIONAL SIGHTSEEING
I honestly think you could spend one day in Dublin and feel like you've seen most of it especially since each stop doesn't really take a long time and everything is relatively close together. You could really hit these items on your day one walking tour, as well.
TRINITY COLLEGE - Just East of Grafton street and really in the heart of Dublin lies Trinity College. It kind of felt like I was walking around Harvard in Boston, Massachusetts. The architecture of the buildings is so detailed and the grounds are iconic.
LONG HALL OF BOOKS/BOOK OF KELLS - In Trinity College, head over to the library to visit the Long Hall of Books and the Book of Kells. The Book of Kells is a manuscript and one of the oldest written Gospels. A different page is displayed each day. The Long Hall of Books is part of this tour and really just awesome to take in the sight. Tip: Buy tickets online and skip the line! You literally can just buy tickets on your phone right then and there. A ticket grants you access to both options.
KILMAINHAM GOAL - The architecture in this former prison turned museum is really cool. You'll learn all about Kilmainham Goal and it's role in Irish history. Make sure to book your tickets in advance.