There's a small city in the Northern part of Arizona, basically at the border of Utah, that should without a doubt be added to all of your bucket lists. Page, Arizona is home to both Antelope Canyon and Horseshoe Bend. Both are equally as breathtaking, in their own way. Just wait for the pictures below, you'll see. I literally was at a loss for how breathtaking nature can make things.
While time-changes were on our side for most of our cross country trip, we had a brief moment of panic driving to Page from Tucson. We were about an hour out of Page, when someone checked the time on their phone. It had changed forward to an hour ahead. It was definitely a panic moment, especially when we had to be 30 minutes early to our Antelope Canyon tour and with the time change we would just be making it on time, if that. Long, exhausting story later we arrived in a hurry. I ran to the check-in table begging them to still let us on our scheduled time tour. Funny story - all I got were blank stares. Apparently, the Navajo don't change their clocks. We were were actually an hour ahead of the time our phones said. We even went on the tour at 1pm instead of our scheduled time of 2pm. Moral of the story and major tip here, make sure you research the time changes, or lack there of, when you visit. It may save you a minor heart attack. Ok, that was an exaggeration, but you get the point!
ANTELOPE CANYON
Antelope Canyon is a slot canyon that is formed solely by rushing water and wind. I was surprised to hear that the only way to see Antelope Canyon is to schedule a tour. It is on Navajo Land and while it used to be open to the public, people were stupid and began vandalizing the area. The Navajo Tribe took over and now you have to book a tour through them. There are a few companies that you can choose from. We took a tour through the Antelope Canyon Navajo Tours Company.
Also, there are two tour areas to visit in Antelope Canyon, upper and lower. We went to Upper Antelope Canyon which is where the more scenic views are due to the high frequency of beams of lights. You can visit one or both - your choice. I would almost recommend splurging for the photography tour, if you're into photography. They go at the best times for those infamous light beams and hold crowds for you to get your shots. If not, you're stuck in a sea of tourists in a pretty narrow slot canyon with everyone trying to take pictures. You're almost guaranteed to have other people in your pictures. If it's important to you I would consider a photography tour. If I go back, I would definitely do that.
HORSESHOE BEND
Though technically part of Glen Canyon, it's a common belief that Horseshoe Bend is part of the Grand Canyon. I actually thought it was part of the Grand Canyon until I researched it. I had only seen it recently on Instagram and Pinterest and decided it was way too beautiful to pass up on our roadtrip. Best part is that it was literally 5 minutes from our tour to Antelope Canyon. You can definitely bundle these 2 into a day and have plenty of time to see both.
Disclaimer, I read a ton of blog posts on how to get to Horseshoe Bend before going and all said it was just a "short, easy" walk from the parking lot. Let me just tell you, easy it was not. (I totally sounded like Yoda there) Maybe it is because I have a blood disorder and have trouble in high heat and we didn't bring water. Either way if you go during extreme heat (that day it was probably close to 110°), be prepared with water and proper sun shading attire. It is a 1.5 miles roundtrip walk from the parking lot with no tree coverage. So you're in the sun the whole time. The parking lot is very clearly labelled from the road, so you can't miss it. It's right before the town of Page if you're traveling North. It is also all downhill on the way there, which means the hike back up is just that, a hike. All things aside, I'm so glad I did go to Horseshoe Bend. Don't let me discourage you with my story. Just be prepared!
If you have a wide-angle lens or a GoPro, that is the best way to go as far as cameras go. (Exhibit A, above was shot on my Sony A7R with a non-wide angle lens and Exhibit B, the below, was on a GoPro). Horseshoe Bend is gigantic! Also, please don't be like the crazy tourists I saw. I actually saw a man holding up a selfie stick, attempting to take pictures, while walking backward towards the cliff. GASP. I was so scared for him. You will be standing on the edge of a cliff, so be careful!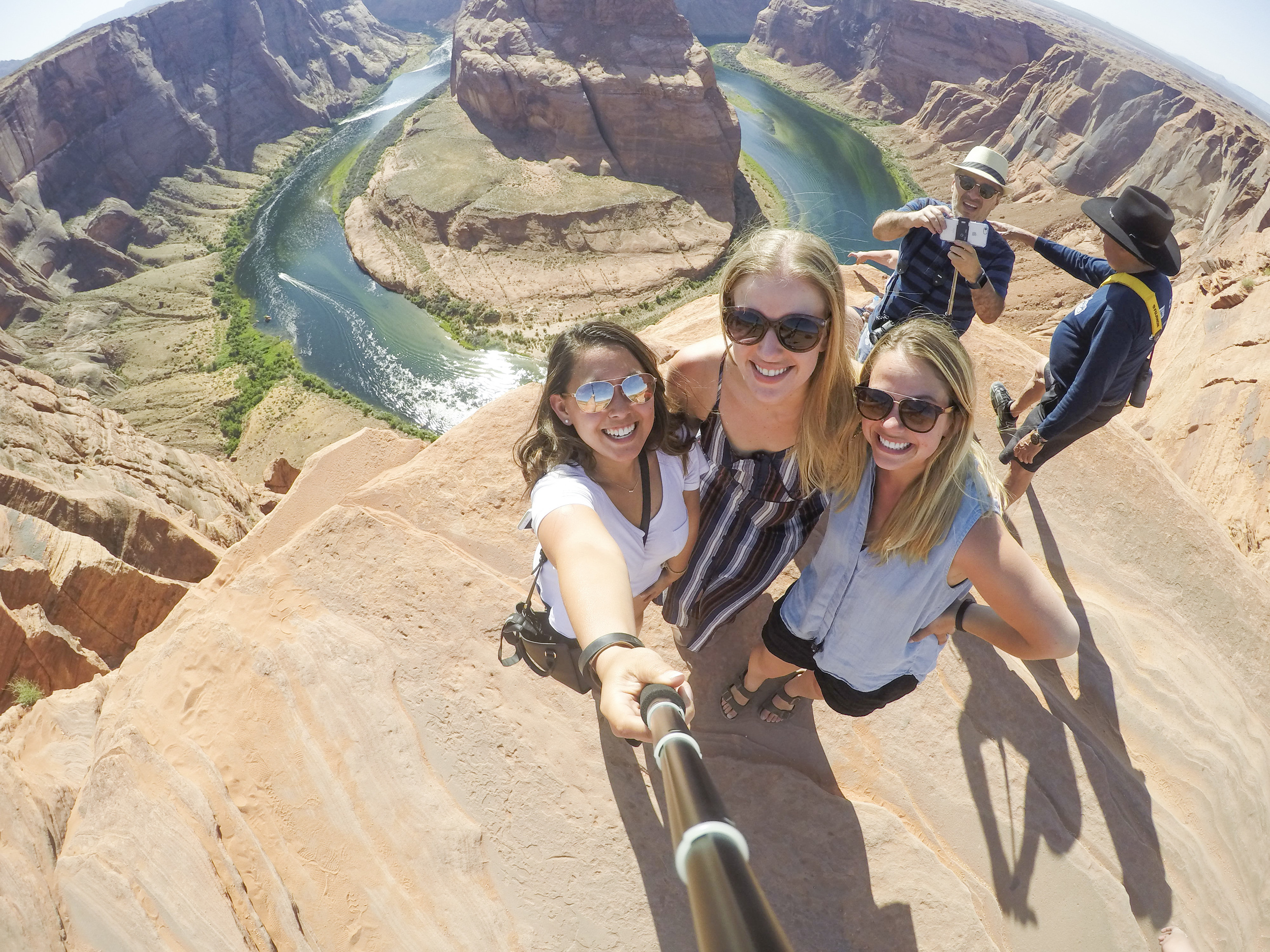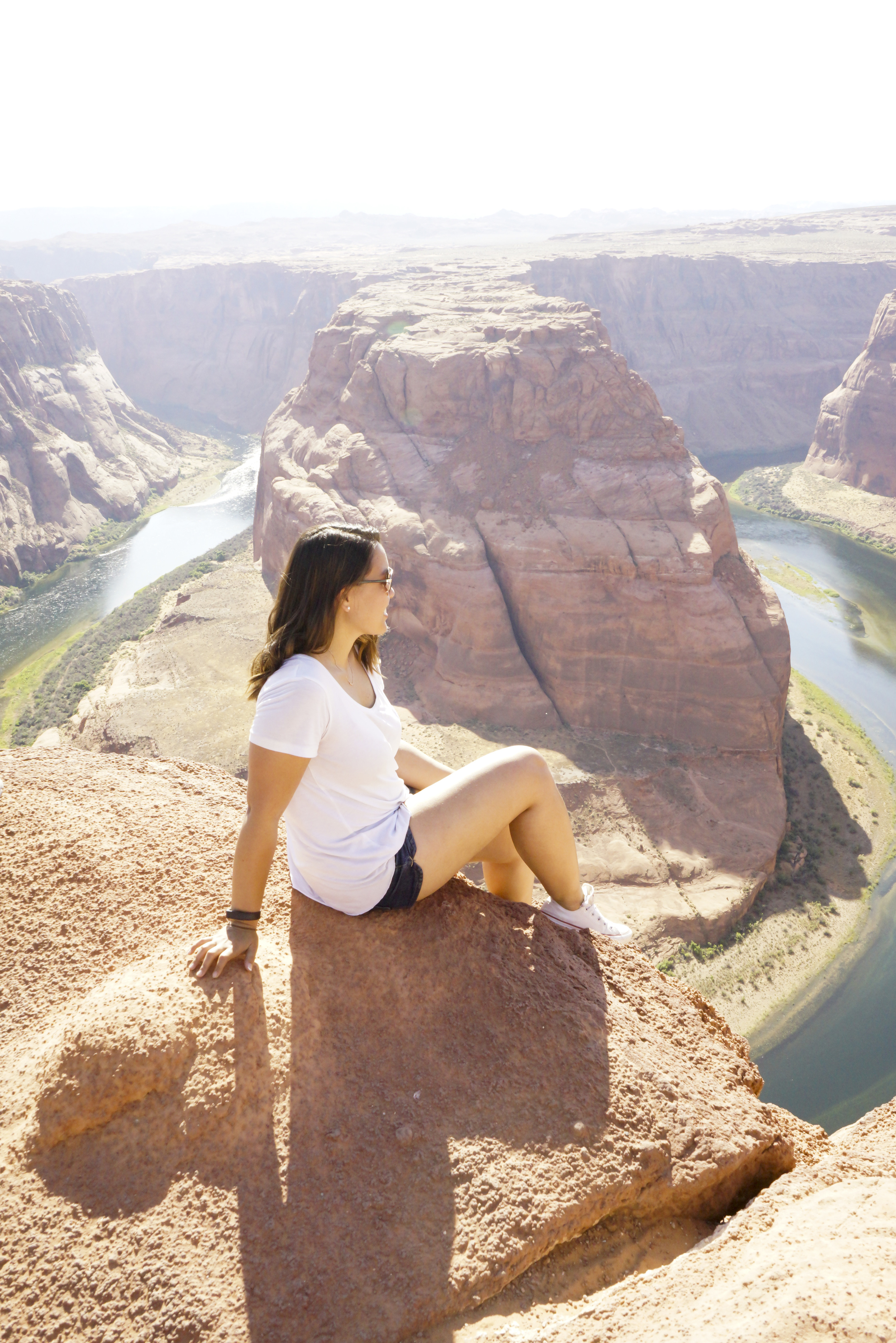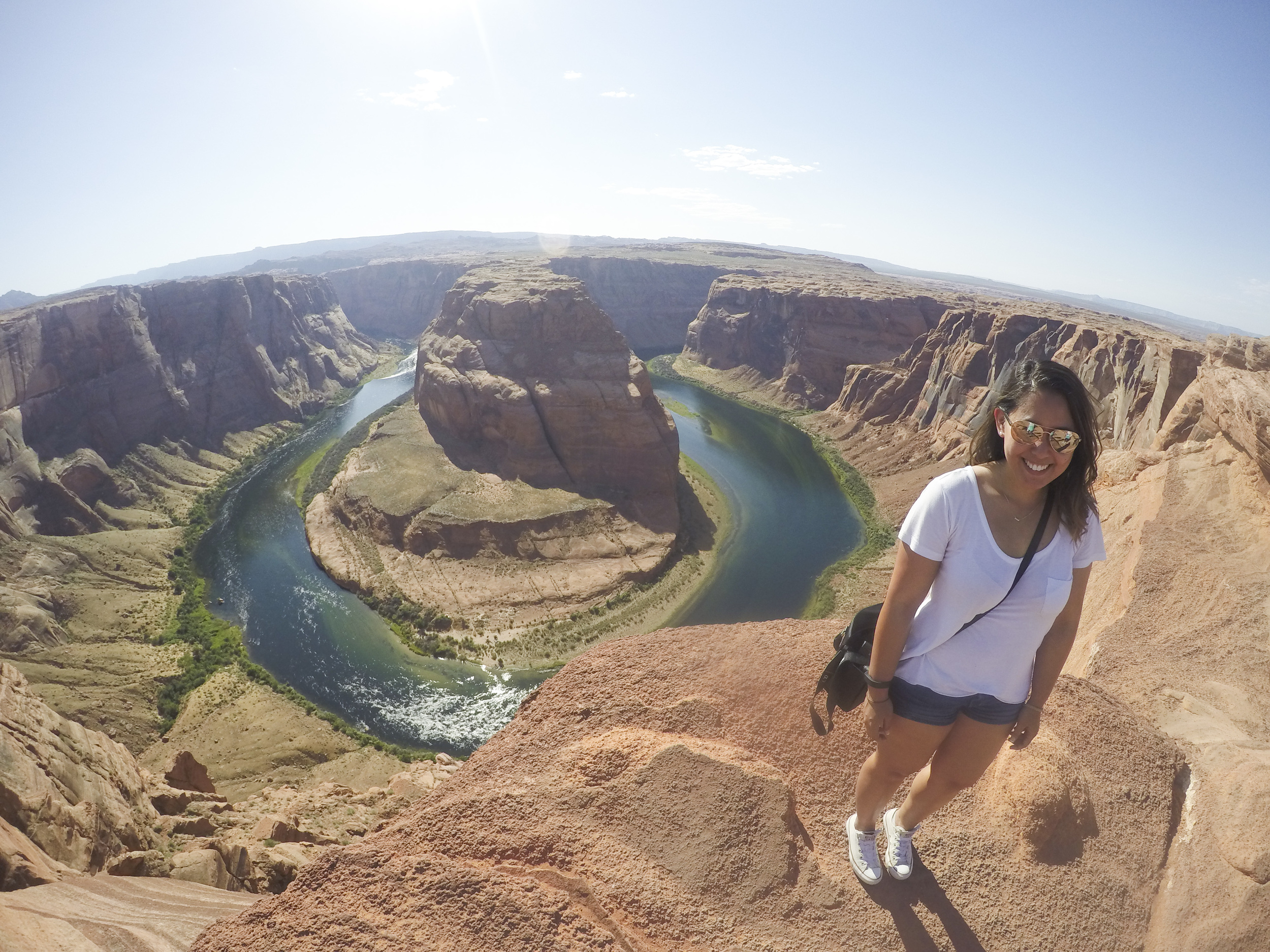 Fun fact, Britney Spears filmed her "I'm not a girl, not yet a woman" music video at Antelope Canyon. It actually does the canyon a ton of justice, so check it out!
Yours Truly // Shannon