I know all you want to do when you head out to Palm Springs, is relax and lay by the pool. Am I right? Ya, that's what I wanted to do too, but I had no such luck. When I visited Palm Springs a few weeks ago, it was freezing. And by freezing I mean temperatures were in the 50's - clearly not laying out weather. Such a bummer, but I got to researching and there are so many things to do in the area besides sunbathing.
Below is a list of fun things to do and the amazing eats I had during my weekend trip. I know there are a lot that I've left out, but there is only so much you can do and eat in one weekend. C'est le vie. Next time Palm Springs, next time.
DO
SHOPPING AT CABAZON OUTLETS - Does this need an explanation? I think they're formally called the Desert Hills Premium Outlets now, but regardless, retail therapy is always calling your name. Or is that just me? It makes everything better that they're outlets, so you're saving money, don't worry. (The Outlets)
POOL AT THE ARRIVE - If you're a Palm Springs resident, it's free to grab a towel and lounge by the pool here. Or as our Airbnb host told us, just use our address!
VISIT THE FLAMINGOS AT THE JW MARRIOTT - This is just a quick stop, but you can miss these cuties. They're in the water on the right of the long, palm-tree lined drive as you're entering the JW.
SALVATION MOUNTAIN - I will definitely be going more into detail about all that is Salvation Mountain, but if you have some time, head out to Salvation Mountain. It's about an hour and a half drive east of Palm Springs and well worth the drive, even if you're not religious. The artist, Leonard Knight, took 28 years piling up hay bales, cement and anything else he could find and then painted it to be come an awe striking, colorful piece of art. (Salvation Mountain's Website)
EAT
CHEEKY'S - They have a bacon flight here. Need I say more? Get here early or be prepared to wait. Actually, just be prepared to wait for a table - its definitely worth it. I think it's safe to say this is a Palm Springs classic and favorite, so don't miss it! (Cheeky's Website)
CHI CHI'S AT THE AVALON - Not to be confused with "Cheeky's", this little restaurant was the cutest, hippest place we ate at all weekend which says a lot since there are a plethora of cute, hip places all over Palm Springs. This one was nice because it wasn't overly crowded, had the freshest food and you can eat under a cabana next to the pool. The food was delicious, as well. (Chi Chi's Website)
RESERVOIR AT THE ARRIVE - Aside from the food, the floor here is super cute. I know, I'm such a blogger or maybe that's the designer in me. This is a great spot to grab any meal of the day. It's in the Arrive hotel which as mentioned above is a great place to lounge by the pool. (Reservoir's Website)
ICE CREAM & SHOP(P)E - Also in the Arrive Hotel, I'd come here everyday for Ice Cream or to shop or really both. It's part cute knick-knack shop of everything you don't need but really want and part delicious ice cream shop. I had the strawberry and birthday cake flavors. The lady even noticed that I was going to take a picture of my cone, so she piled on the scoops. And I mean piled. Funny, I guess when they ask which flavor you want on top and bottom of the cone and you respond pink on the bottom when you really mean strawberry, its a dead giveaway you're doing it for the 'gram. (Ice Cream & Shoppe Website)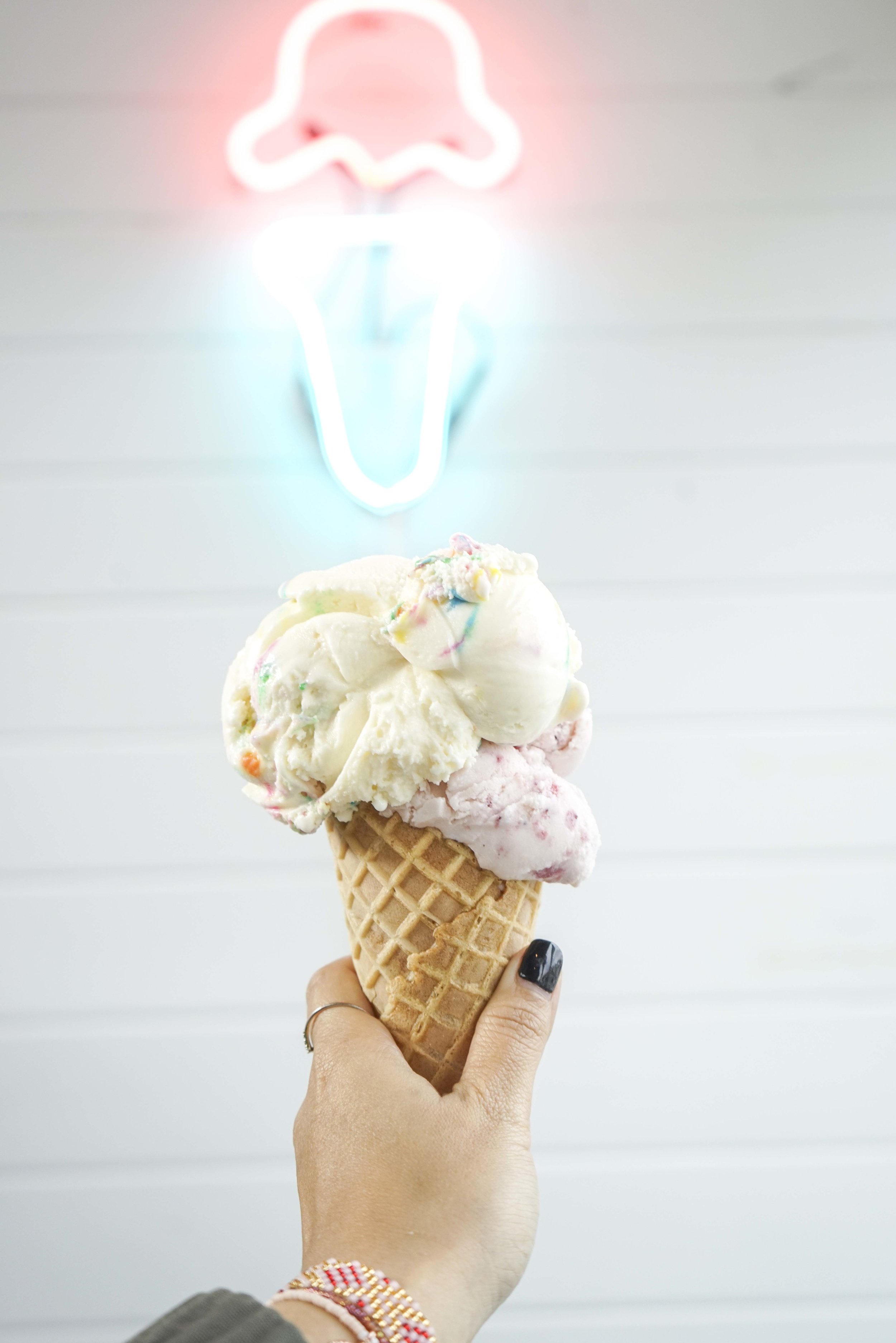 HADLEY'S DATE SHAKES - Let me just preface this that I hate dates. However, when you're heading back to LA and driving by the Cabazon area, do yourself a favor and stop at Hadley's Fruit Orchard. They have date shakes that will make you wonder how you could have ever not liked dates. (Hadley's Website)
I feel like I already need another Palm Springs getaway or maybe I just need a date shake, but I think the desert is calling my name. Is it calling yours?
Yours Truly // Shannon