Hawaii is one of my most favorite places on this Earth. I've been to the Islands more times than I can count, thinking of it like a second home. All things considered, most of these visits have been to the Big Island or Maui, as that is where my family chose to vacation growing up. I hadn't been to Oahu in about 12 years so this trip was going to be different. Going somewhere when you are a child versus when you're an adult is completely a different experience mostly do to the fact that you can actually experience things. The food, the views, the adventures can all be appreciated that much more.
After being in Hawaii for a week, I have so many great experiences I would love to share. I've decided to break it into a few posts starting out with some great places to visit on Oahu that may not be on one's "must see" list, but definitely should be. You basically can create your own Oahu island tour. These may be considered off the beaten path and not your typical touristy sights but for me they are a can't miss.
SIGHT 1: MAKAPU'U LIGHTHOUSE HIKE
This hike is on the East side of island, also known as the "windy" side. It is definitely windy which is much needed when you're on this hike. Look for the Kaiwi State Scenic Shoreline sign off of Kalanianalole Highway. There is some parking, but not a ton so get there early! Most of the research I did before this adventure said that the hike is only 1.5 miles total. I think this is definitely wrong, considering my FitBit said otherwise. I don't remember the exact distance, but I'd say more like double what my research said. It is an easy hike on a paved path, but all uphill and in the heat can get a little exhausting. I did do this in sandals, so not too strenuous, and worth the views you get.
The actual Lighthouse is nestled into the side of the hill. I'm not sure you can access the path that leads to it, but you can view it from above. Like the whole hike, there are multiple look outs, positioned at the most scenic areas, that are nicely paved and are a great place to take a rest on the way up.
Once you see the Lighthouse, keep going up! There are many more lookouts with beautiful views and ends at a spot overlooking the coast and small islands. The colors here are unbelievable!
SIGHT 2: Valley of the temples
Standing in front of the Byodo-In Temple In the Valley of the Temples transports you to another time and/or another era. You will quickly find yourself forgetting that you are in Hawaii instead of Japan. The serenity and peace felt here is truly what gives it its appeal. The temple is tucked away in the lush green Ko'olau mountains with low fog hovering over top making it ever so picturesque. Even driving through the Memorial Park to get to the temple is awe-inspiring with beautiful gravestones and the greenest grass you can imagine. A quick visit to this site is a great change to the hustle and bustle of Honolulu and Waikiki.
SIGHT 3: WAIMEA BAY
A visit to Waimea Bay is not solely for the views of this beautiful beach on the North Shore of Oahu. Most people come here because it is one of the best beaches in Oahu. The reason I went here was solely to jump of the giant rock. Cliff jumping has quickly become one of my favorite adrenaline-junky sports. One of the many things I have done lately that has incited a little surprise with my family and friends to say that growingly popular phrase, "Shannon Did What?!" Although, this is not the first cliff I have jumped off of. The jump is roughly 35-40 feet. The day I went I was told the water level made it about 11 feet deep. Good thing I'm only 5'1", plenty of space! Put this on your bucket list if you're not faint of heart.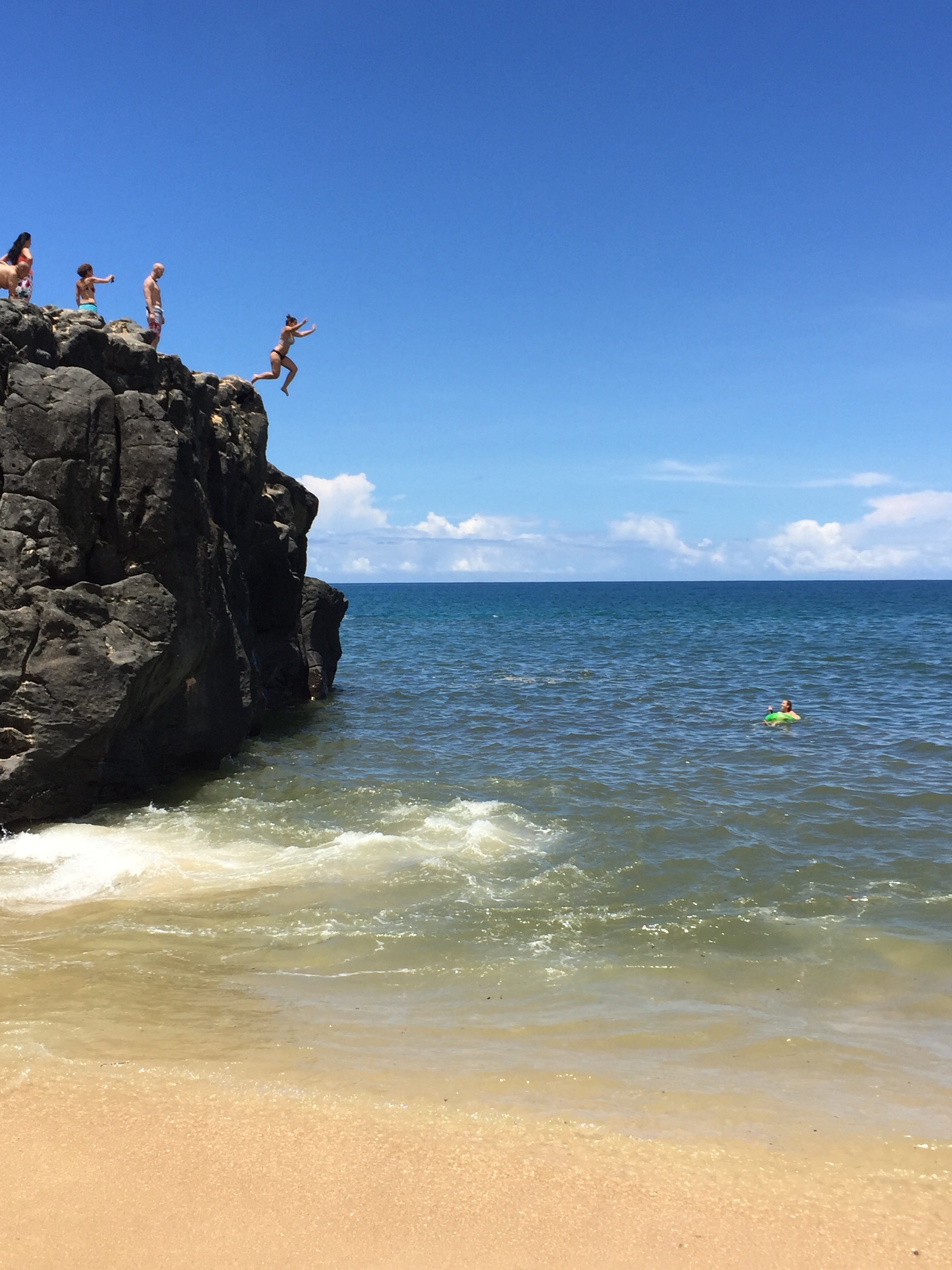 When you make it to Oahu, make sure to put these 3 sights high on your list and create your own Oahu island tour. It's hard to prioritize which places to go to especially when you're on a schedule or have limited time, but I promise these places won't disappoint. And if you're feeling extra adventurous, jump off that rock at Waimea Bay! It is such a rush!
Yours Truly // Shannon