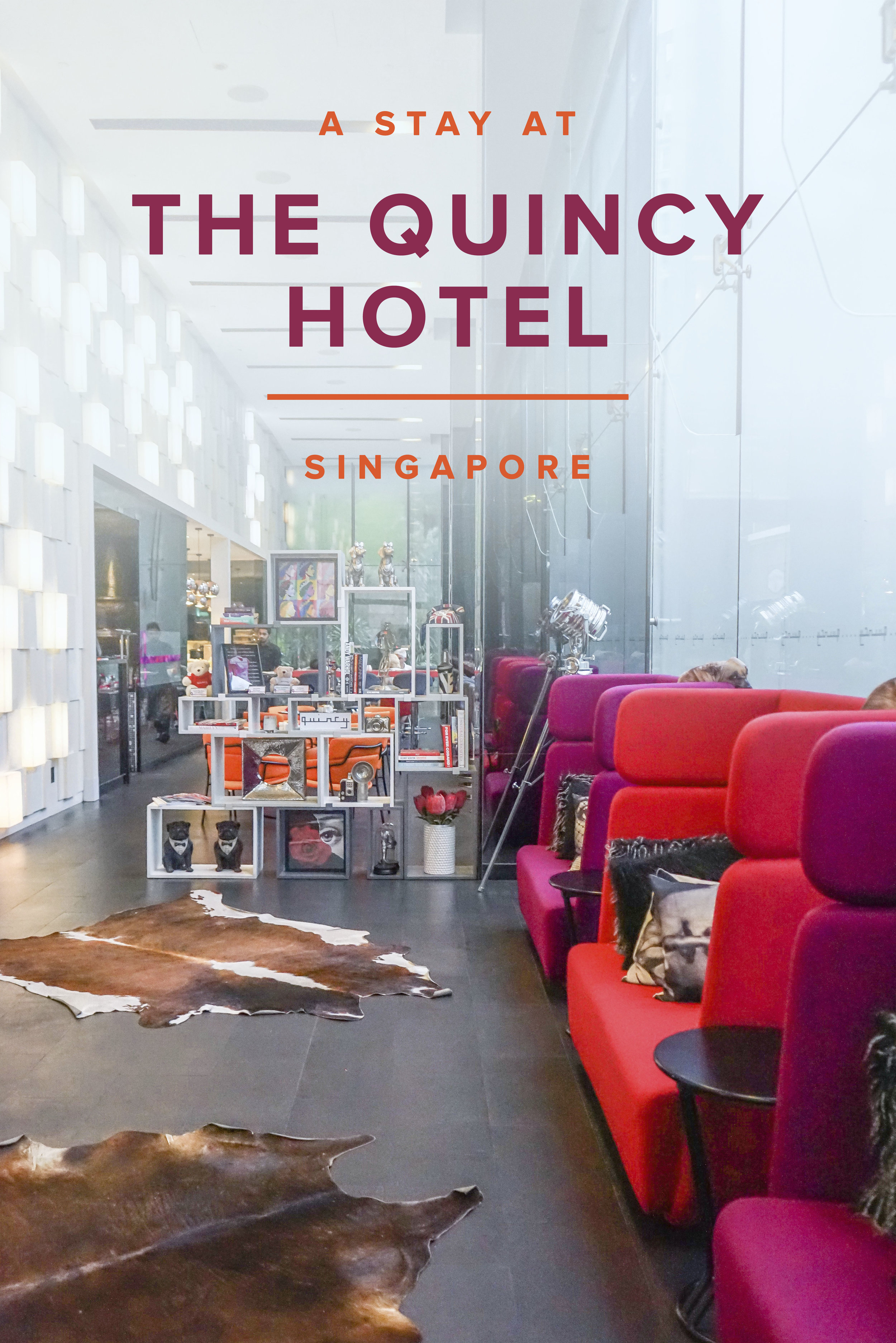 If you've read my blog before, you know I'm a sucker for pretty places with great design. The Quincy hotel is no exception. Literally every inch of the Quincy is fabulous and stylish. Each detail is so well designed and thought through. I mean, when you just see the hotel building from the outside, you can't help but admire its design. At night the hotel is designed to light up in a cool pattern.
Basically, the Quincy Hotel screams modern, stylish, new, hip hotel. Read on to learn more about this designer hotel. If you're making a trip to Singapore, make sure to keep the Quincy hotel at the top of your list. It will not disappoint. Trust me, you get so much bang for your buck with the amount of amenities you get during your stay.
LOCATION
The Quincy is pretty well located not far from Little India and close to the fancy shops at the ION Orchard Mall and the other shops along Orchard Road. And by fancy shops, I mean the designer, expensive type, but who doesn't like to window shop, right? Uber does make it extremely easy to get around the city from the Quincy. It was also a short 20 minutes from the Singapore Changi Airport.
AMENITIES
The list of amenities that the Quincy hotel offers is incredibly long and pretty much beyond standard. On top of having a top of the line gym, spa and sauna, gorgeous infinity pool and a beautiful outdoor garden sitting area, the amenities don't stop there. The hotel offers a huge amount of complimentary food. I go into detail just below!

The hotel offers a laundry service too. I've never really seen another hotel do this. You can have 2 pieces of laundry cleaned if you are staying longer than 2 nights completely complimentary. Also, if you turn in those pieces in the morning, you can receive them back, cleaned, same day. Finally, a really awesome feature they have is a mobile device that you can take with you on excursions that has wi-fi internet access. This is great if your phone doesn't have a great international plan.
FOOD
Any hotel that offers complimentary breakfast is a win in my page. The Quincy offers a great buffet breakfast with both cold and hot items. The Quincy takes it like 3 steps further than breakfast though. There is also a light refreshments service literally all afternoon and then evening cocktails and light dinner. Yes, you read that right. The hotel basically offers you complimentary food all day - yes please! On top of that, the in-room mini-bar is complimentary and replenished daily. This was definitely key for helping stay hydrated especially since Singapore can get hot and humid.
ROOMS
Like the rest of the hotel, the rooms are so well designed. Even as studio rooms, with each area so well thought out, it really seems like you have a ton of space. My favorite part of the whole room is the giant bay windows with a window seat spanning the length of the window. Not only do they give you a great view, but I also just loved the openness they created.
SERVICE
The quality of the service at the Quincy hotel was great just like most hotels. The check-in process went smoothly and quickly. The staff at the restaurant were tentative and available should you want to have eggs made to order. In all honesty, we didn't have very many interactions with the staff, so I can't report anything negatively or positively.
 
PS. check out the cutest dog pillows hanging from the tops of the lounge seats in the lobby. They look so real and funny hanging by their heads. Just another hip touch added to the already stylish hotel.
 
Check out the Quincy Hotel online, here.
 
Bottom line - if you're looking for a place to stay when you're in Singapore, look no further than the Quincy hotel. It is stylish, clean and affordable. An unbeatable combination in my book.
*Sponsored Post: My hotel stay was provided in collaboration with the Quincy Hotel! All opinions are my own.