In true throwback Thursday fashion, this here is a throwback to my trip to China just over a year ago. After taking a look at the traditions my family has during the Chinese New Year, I thought it would be fun to share my personal highlights from Beijing, Shanghai and Xian. I went with my entire family (almost). There were 13 people in total including my immediate family, cousins, aunts and uncles. Very cool to visit our "homeland" as a group. There are so many places to see but these 5 were my favorite.
THE GREAT WALL OF CHINA
I've always dreamed of going to China, mainly due to my heritage, but also to see the Great Wall. And oh man, did it not disappoint. It was gigantic and stretched farther than you could see. We actually hiked up to the top, which my uncle claimed was about 40 stories according to his FitBit, in like 20 minutes. We flew up that wall because we only had a limited time there on the tour we were with. I was awestruck here.
NIGHT MARKET
There's a night market in Beijing called the Wangfujing Snack Street that is famous for selling insects on a stick. The scorpions are piled onto sticks by three or four still squirming around. They all just sit there awaiting their fate until the man throws them into a fryer and then hands it over to a waiting patron. I almost ordered one just to say I did it, but I'm not sure I could stomach it. And yes, that is a mini, baby seahorse below. So sad. Besides creepy crawly fried appetizers you can also find more edible cuisines, here.
TERRACOTTA ARMY
The Terracotta Army in Xian is a must see if you go to visit China. It's literally like nothing you've ever seen or can comprehend. The main building is literally the size of multiple football fields with hundreds or maybe thousands of warriors. They are still trying to excavate the site. It's crazy to think that someone carved every single one of those warriors, horses, etc. with such detail. And that isn't even the only building full of warriors.
SHANGHAI SKYLINE BY NIGHT
The first night that we arrived in Shanghai we went straight onto a river cruise to see the skyline. The Shanghai skyline seriously rivals the strip in Las Vegas. There are so many bright lights and colors, it's like a show.
THE BUND
The Bund in Shanghai is probably my second favorite highlight of my trip. The bund is a river walk that is right across the river from the afore mentioned Shanghai skyline, but the Bund gives you an amazing view during the daytime. Yes you can go to the Bund at night, but I'd suggest doing that by boat or somewhere with a high view like the rooftop bar at the Ritz or the Vue Bar at the Hyatt.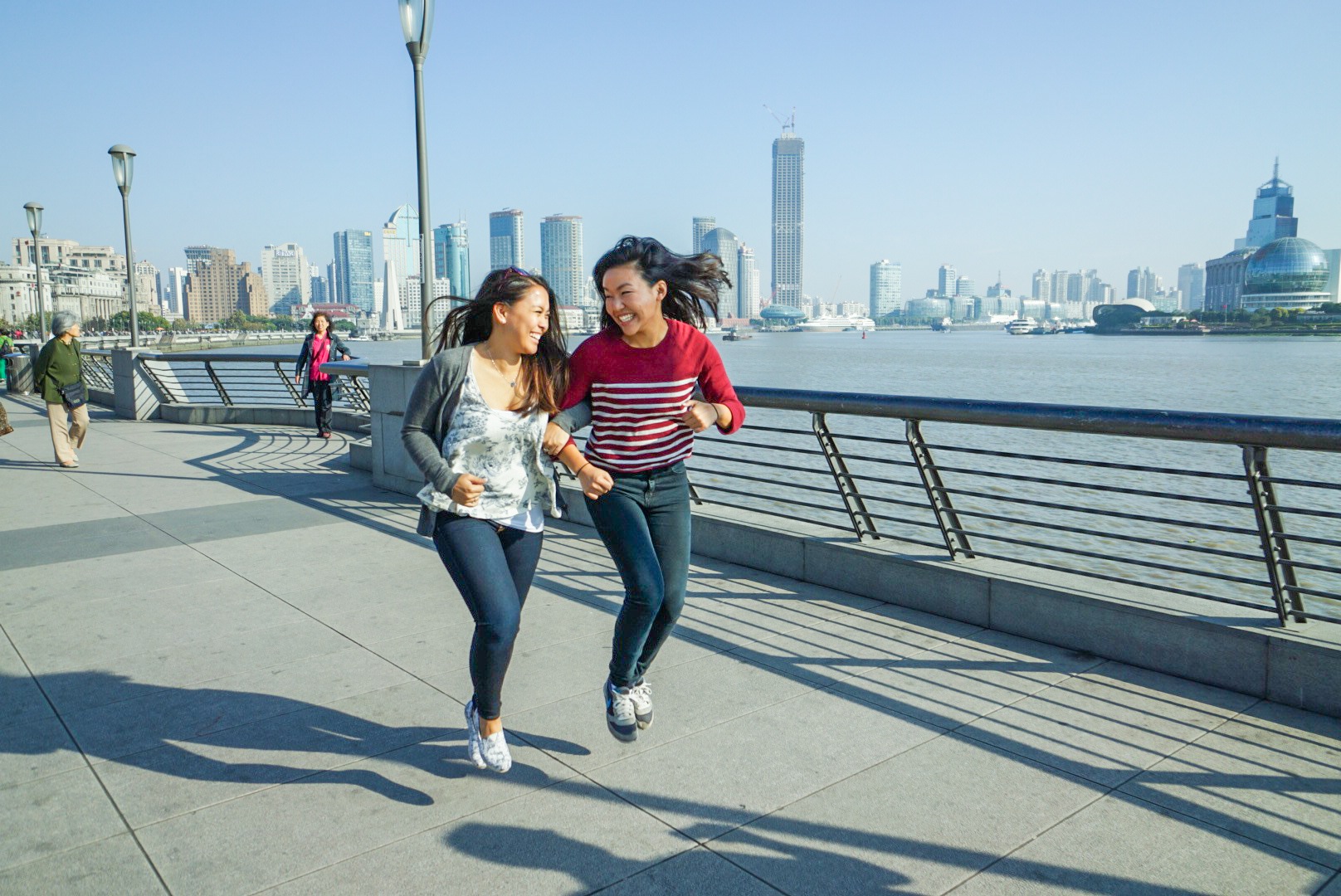 My dream is to go back to China and visit the more southern part. I really want to visit where my family is originally from, a small village outside of Guangzhou (used to be Canton). My family still owns a home there where my grandpa grew up. Well more like a fortress complete with gun holes (what?). My cousin just informed me that it is now a Unesco World Heritage Site so it can never be torn down. Pretty awesome! Hopefully another China trip is not far in the future. Hong Kong of course would be so exciting to see, also.
Yours Truly // Shannon