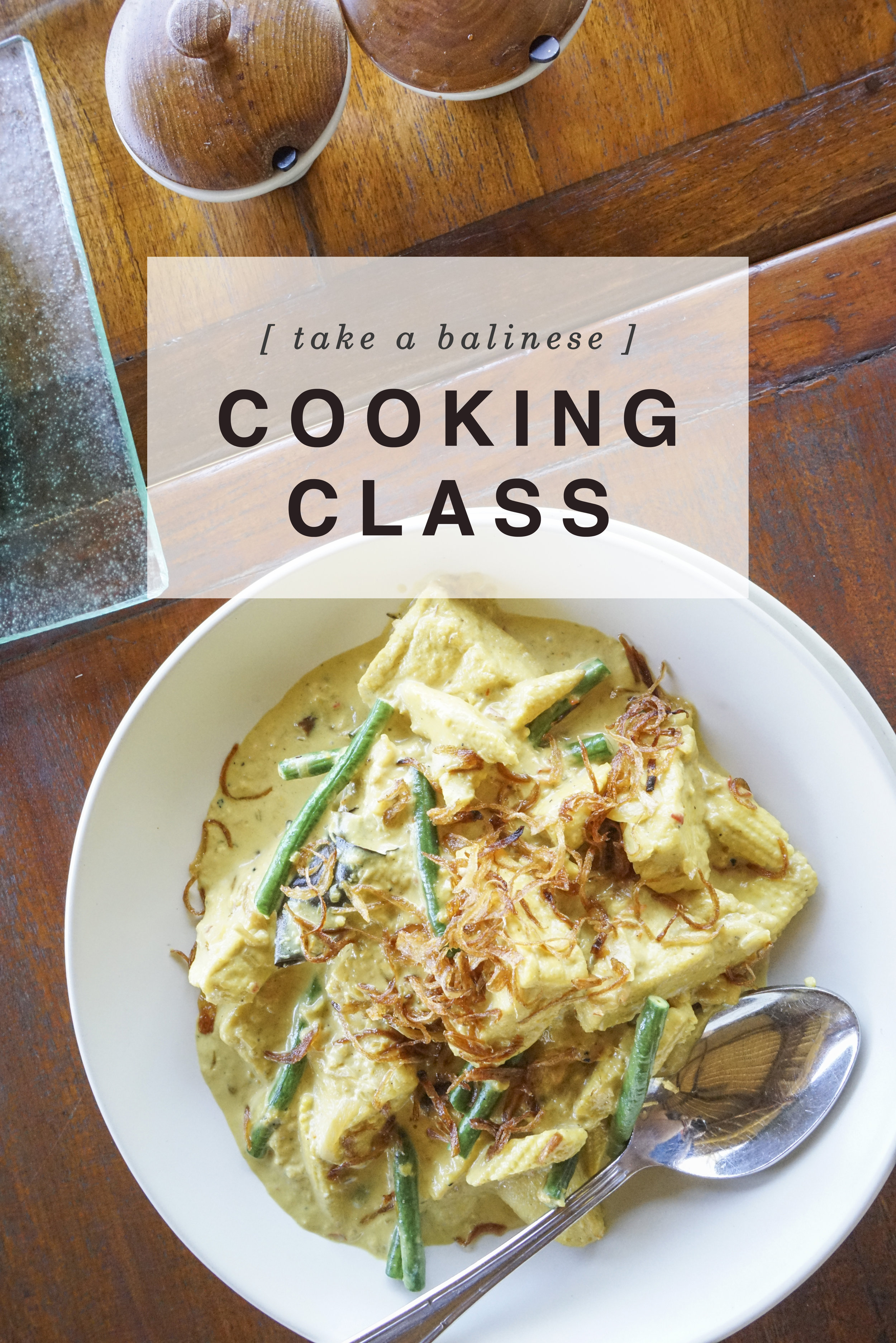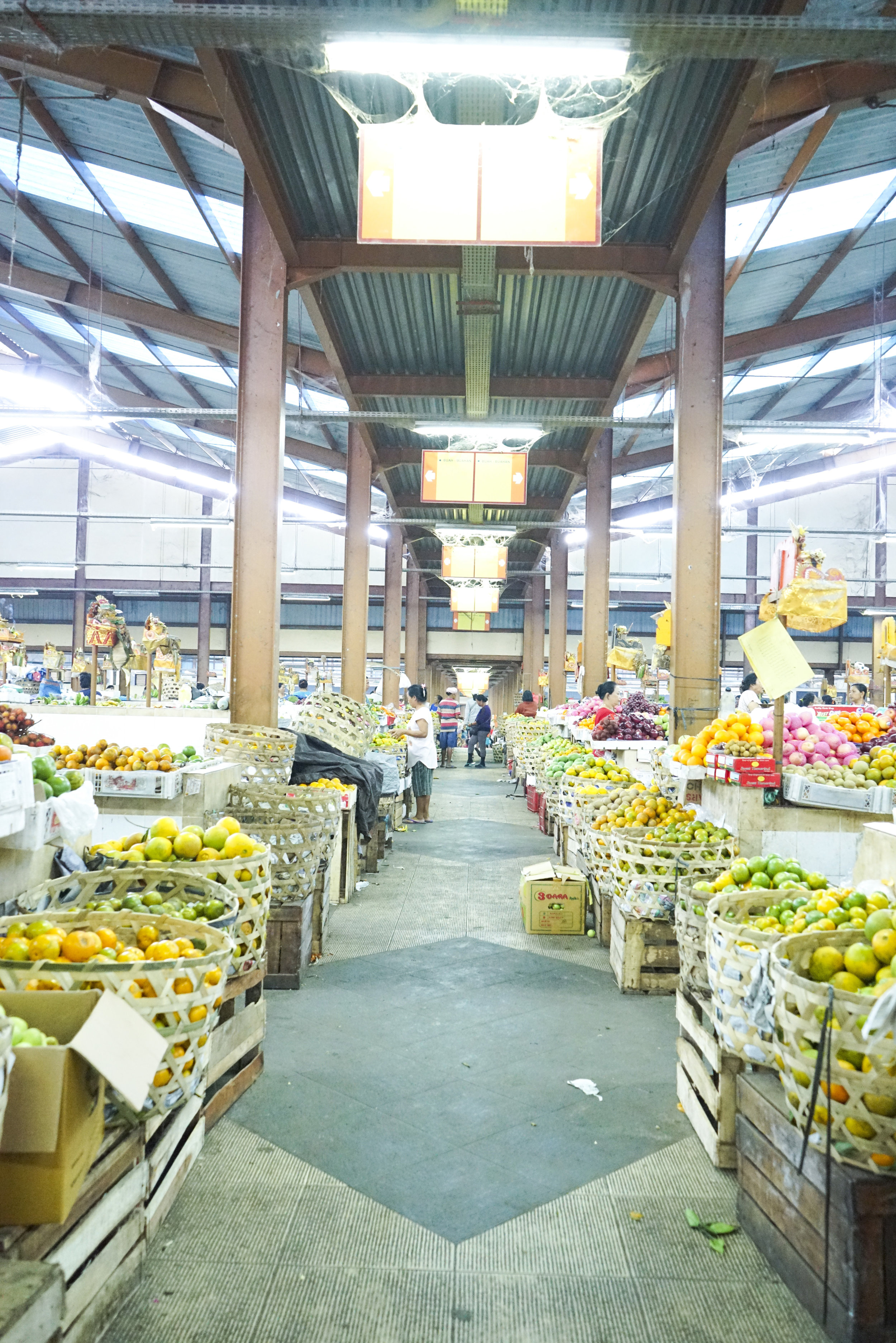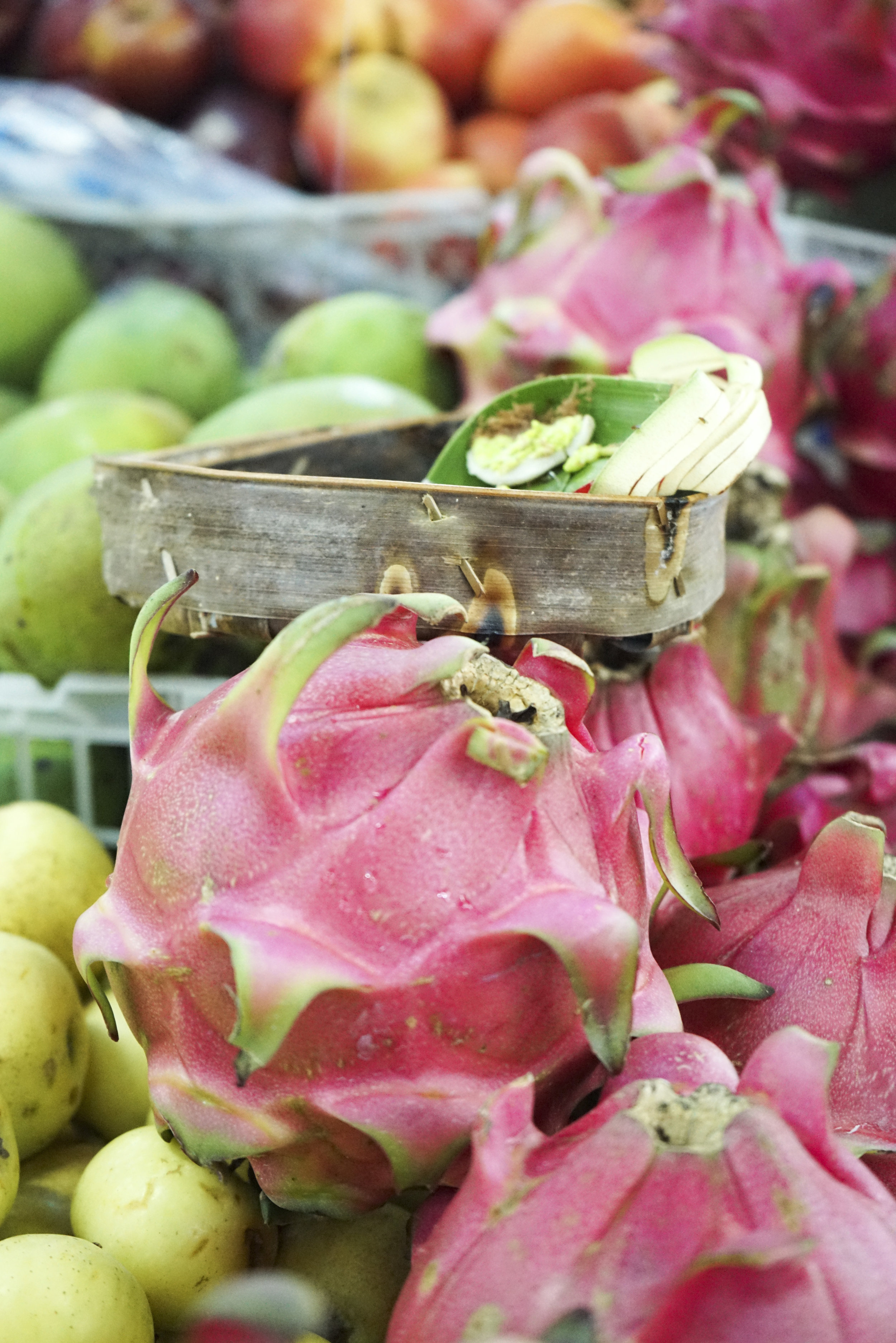 One of the things I really wanted to do when I went to Bali was take a cooking class. I already love cooking and of course I love Asian style food, so this was kind of a no brainer. Balinese food is very similar to other Asian foods like Chinese and Thai, but has some differences. For example, Balinese fried rice is called Nasi Goreng. I'd say one of the main differences is that it has different vegetables in it - cabbage and tomatoes instead of peas. One thing is for sure, the food is always extremely fresh. It's generally farm to table - fresh spices, fresh vegetables and fresh meat.
Speaking of meat, here's of fun fact. Since the majority of the island is Hindu, almost 90% in fact, with only a small percentage being Muslim. Which is a huge difference from the rest of the Indonesian islands, where the majority of people are actually Muslim. Hindus do not eat beef and Muslims do not eat pork. You very rarely see a cow in Bali and if you do (which we did), they will not be used for their meat.
Here's the menu that we cooked:
Bumbu Bali: This a a Balinese spice paste that is quite literally used as the base of every single Balinese food. It's a combination of about 20 spices that are ground down into a paste.

Sate Ayam: Sate is a skewer of meat. Ayam means chicken in Balinese.

Bumbu Kacang: The peanut sauce made to dip the chicken skewers in.

Tum Be Pasih: Ground fish steamed in a banana leaf.

Kare Tahu Dan Tempe: A light curry of tofu, baby corn and long beans.

Nasi Goreng: Fan favorite, Indonesian fried rice.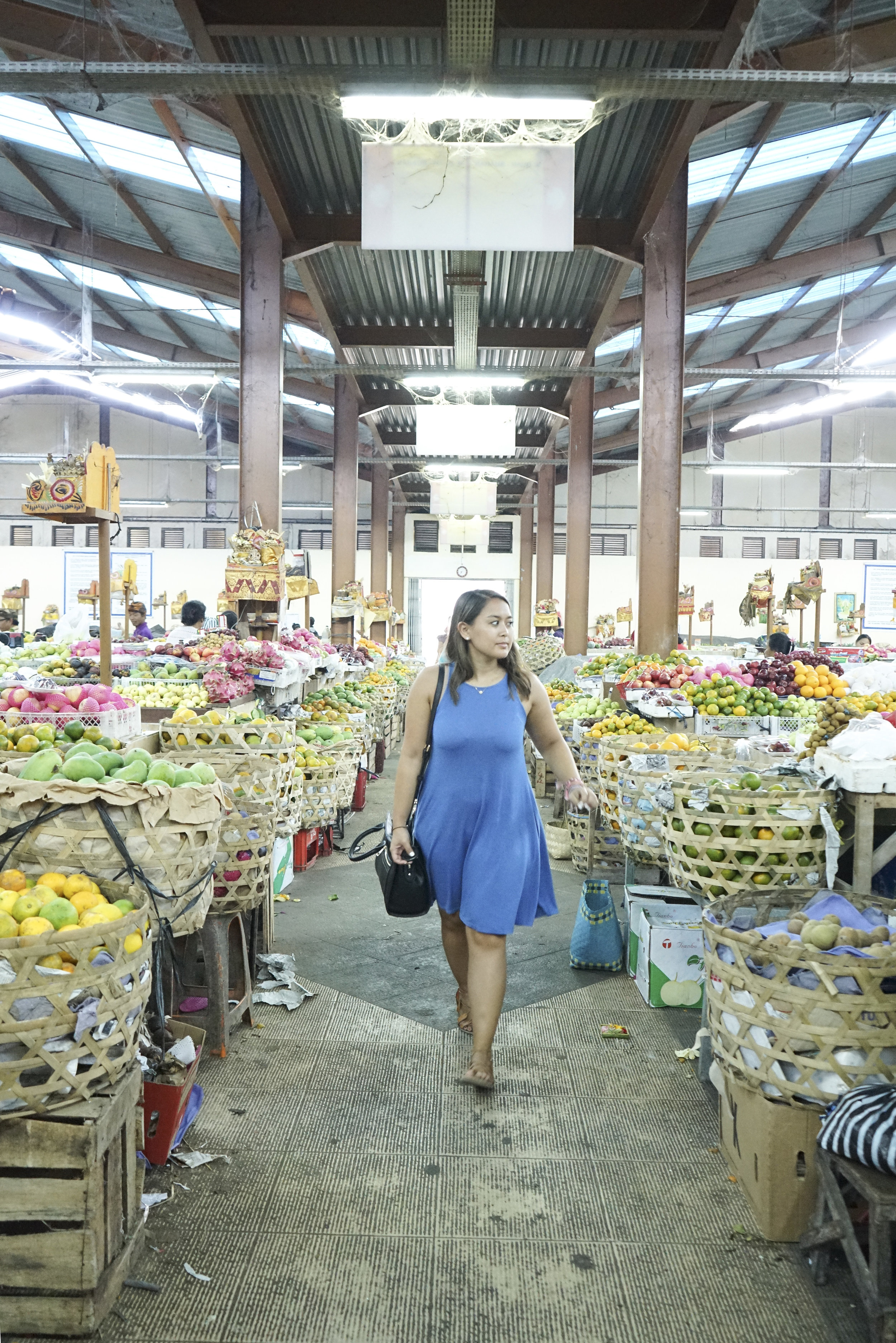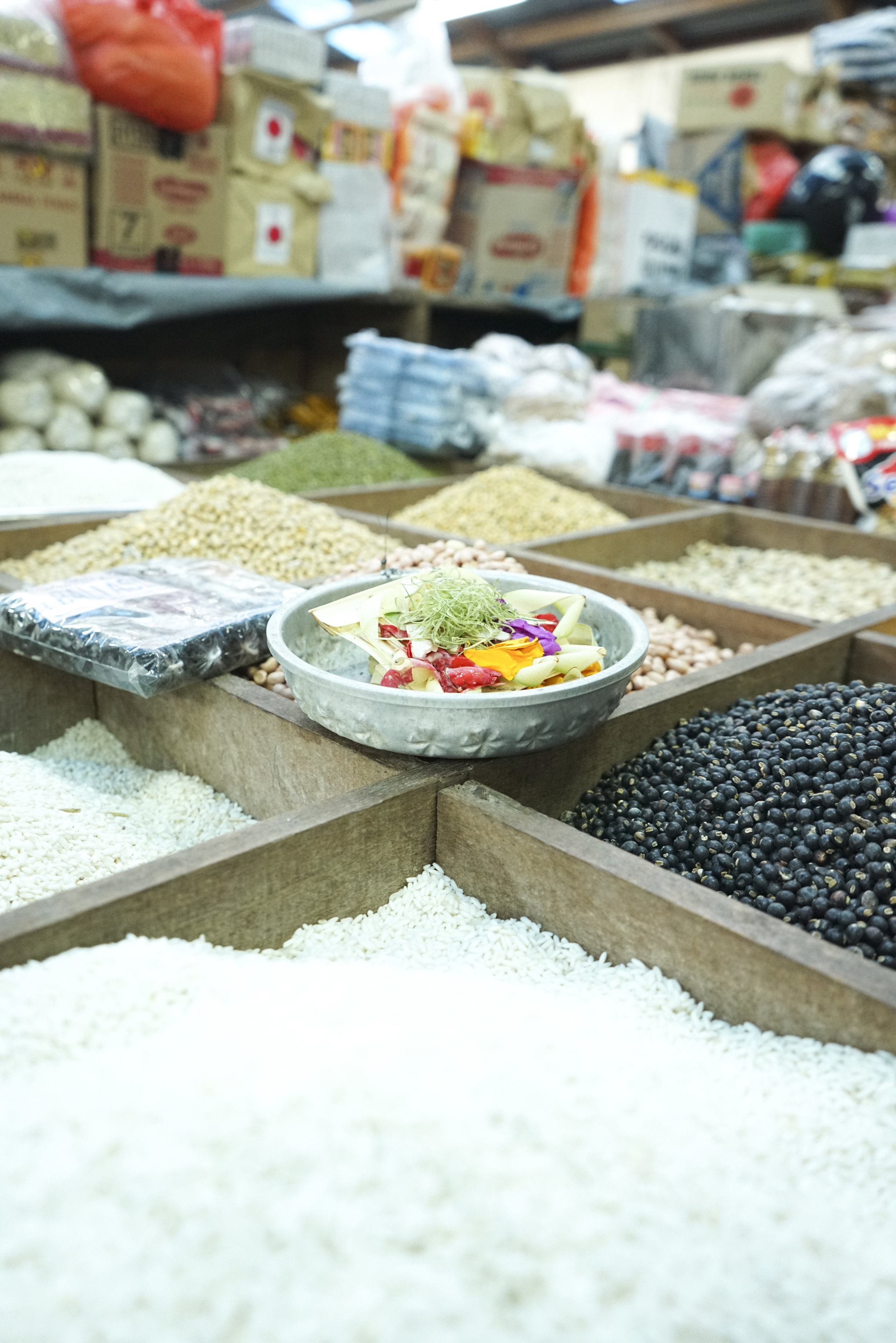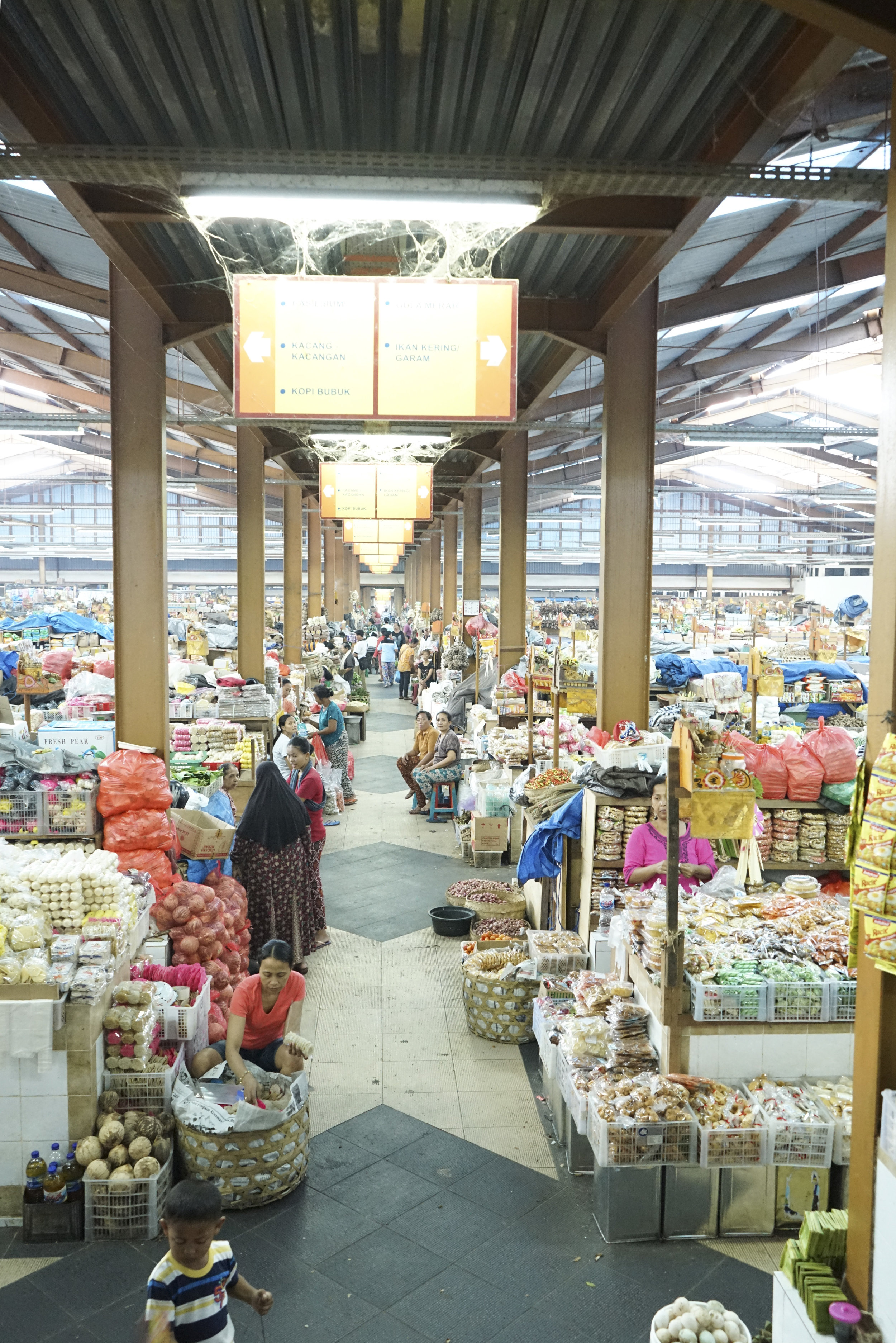 The cooking class didn't start in the kitchen, but at a traditional market (pictured above). I didn't realize how much I would love this market. Like everyone's been to a farmers type market, right? No. This place was like nothing else. First off, it was like multiple football fields combined under one giant airplane hangar. Just as you thought it was ending, you would see more stairs and walk down to discover a whole new section. There was the fresh fruit section, vegetables, goods, prepared foods, spices, meats and everything else you could imagine.
You don't actually buy the ingredients for your class. They already have all the supplies waiting for you when you get back, but they want you to experience their daily market. And boy was it worth it. I love traveling and seeing places as the locals see it. Granted, our visit to the market was probably not a typical experience, as everyone was staring at us the whole time. Aside from the fact that we're foreigners, my friend was on crutches which baffled the locals and I seemed to confuse the people because they all thought I was actually Balinese. What an experience!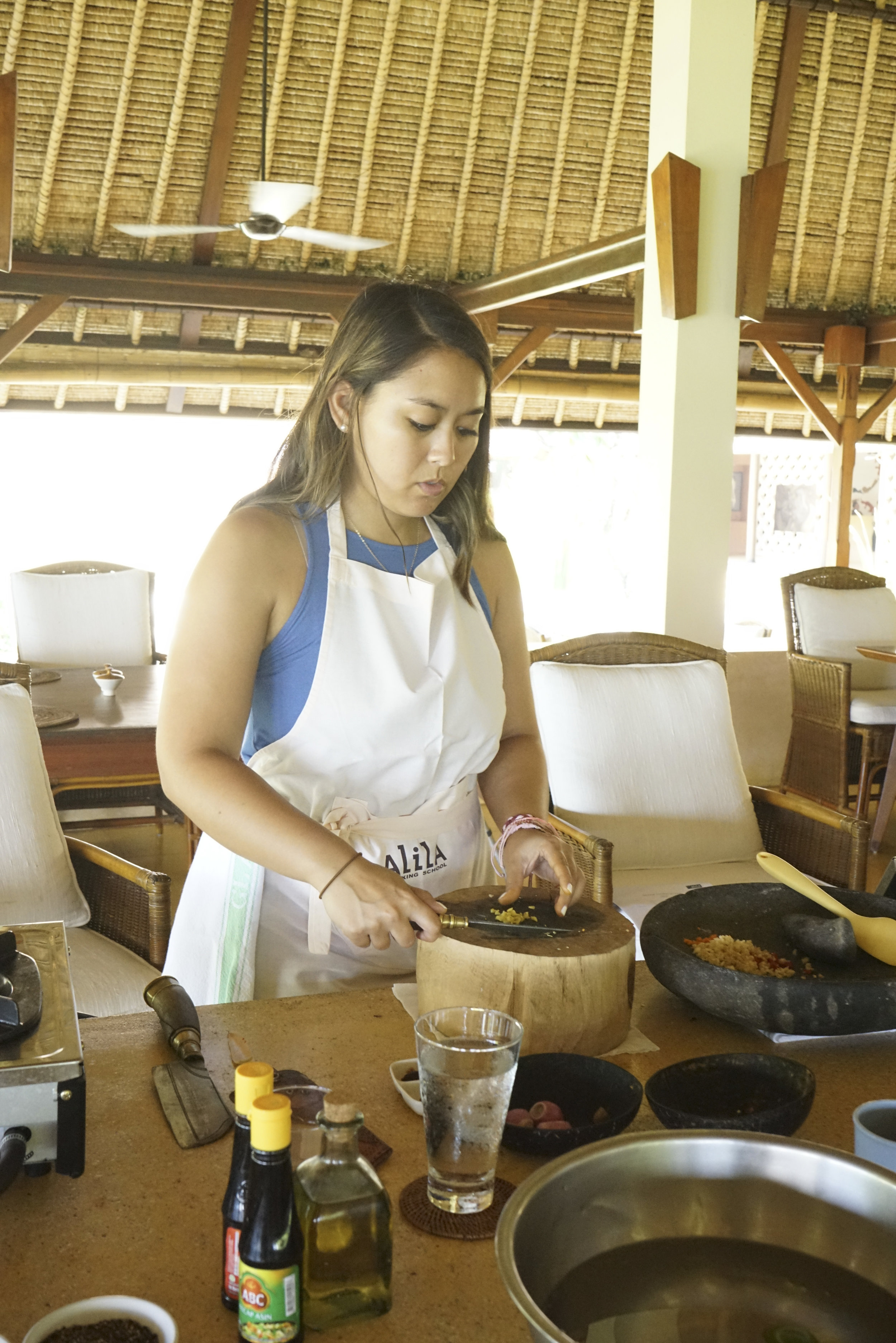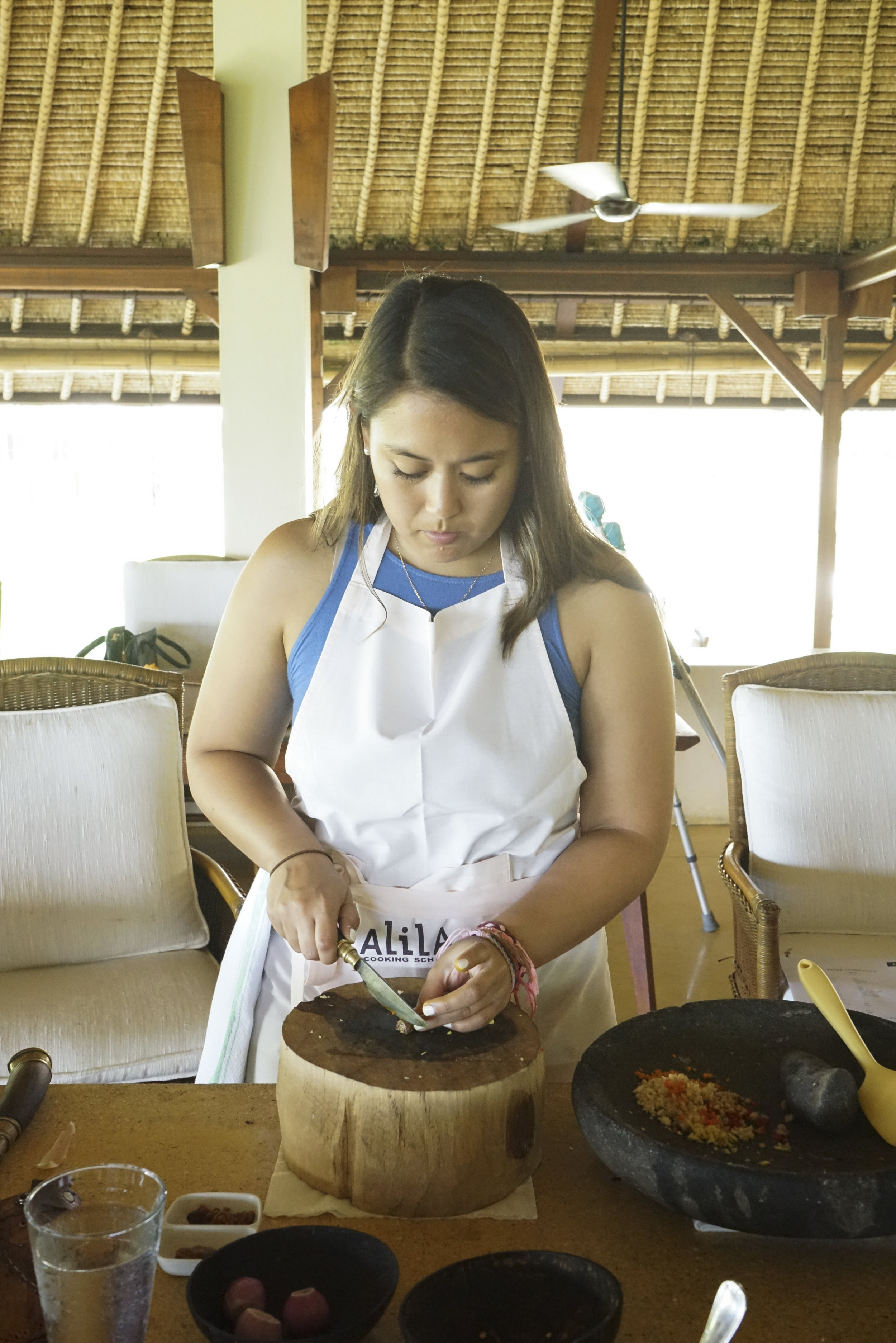 After we returned from the market, we quickly got started in on our class. It was a great surprise to find out our instructor was actually the head chef of the hotel restaurant, Chef Ridwan Hakim. We felt super privileged to be taught by an accomplished chef. He was really insightful and helpful.
I really wish I could recreate some of the dishes we made. The Bumbu Bali, for example, smells so delicious and tastes so delicious, I would seriously use it in everything, just like the cooks in Bali do, but I don't think I would be able to find all 20 ingredients or so needed to create it. By far my favorite dish was the tofu curry. Surprising to me since I thought I would prefer the Nasi Goreng. Maybe it's because I had Nasi Goreng almost every meal. The curry was lighter than any curry I've ever had. Full of more flavor, and thinner than I would normally like, but oh so good. I can just taste it now. Yum.
If you have a chance to take a cooking class in Bali, or really any place you travel especially in an Asian country, do it. You won't regret it. Don't worry, if you do not have that much experience in the kitchen that's ok! They walk you through every step and are so helpful. If anything take the class just to eat all of the delicious foods you will make. Trust me.
Happy Cooking!
Yours Truly // Shannon