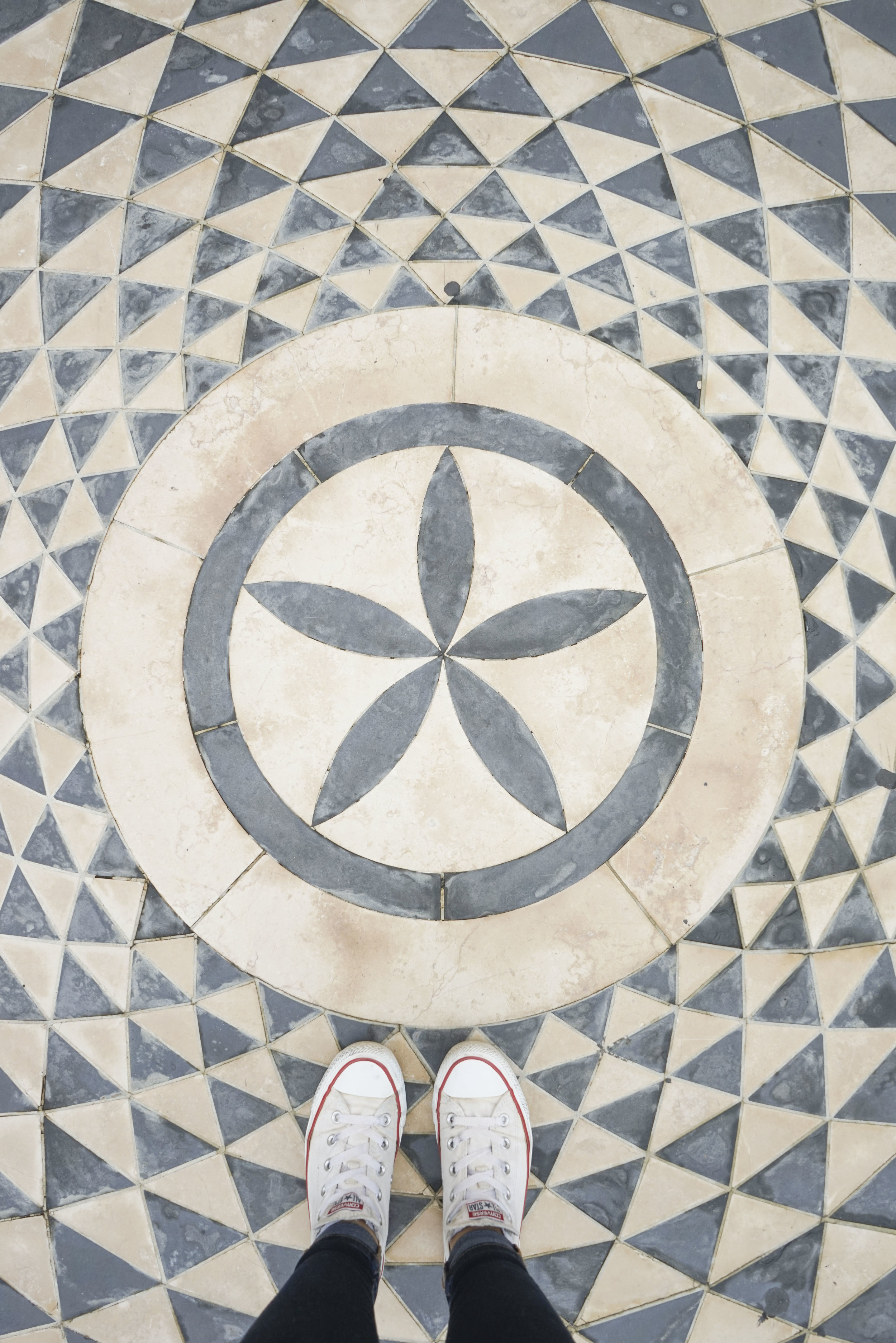 I've been dying to check out the Getty Villa in Malibu for a while now, but just hadn't gotten the chance to visit. Well, I did try one time this summer, but was unable to get in because you need to have tickets in advance. Funny I didn't realize this because I usually research everything beforehand. Not sure where my head was! Don't worry - I think I'm back to my super detailed self. Major tip here: if you plan on going to the Getty Villa, head online to reserve your complimentary tickets. It doesn't seem like they fill up super quickly, so I think you can grab them without planning too far in advance, but the guards won't let you in without a reservation. While admission to the Getty Villa is free, the parking, however, is $15. I guess that's the tradeoff.
I really didn't know much about the Villa except that everyone I spoke to just raved about how beautiful it is up there. The drive up to the parking lot really sets the tone for the beauty that is the Getty Villa. As soon as we arrived at the Villa, my friend and I quickly learned how fitting it was that we were visiting together. We looked at the program and since we both didn't know much about the museum, we were excited to find out it was constructed to look like an ancient Roman Villa. My friend and I had studied and lived abroad together in Rome. It seemed really fitting for us to see this together. Most everything on display there was from the Roman empire era. We definitely thought it was fate.
I really am conflicted, though, about the ambiance. After you park and then are making the long walk from the parking lot, past the museum cafe and then towards the main house, it is beautiful and super serene. Maybe it's that it was slightly overcast that day, but the grounds were pretty empty so it felt really relaxing. The Getty Villa is nestled into the side of the Malibu Hills. You're surrounded by lots of greenery and a very modern stone. It's very clean and airy. When you then get into the Villa and walk out into the main garden, it is a little confusing. The walls lining either side of the garden are painted to resemble a Roman villa's walls. The windows, the columns and the decorations are all painted in bright, slightly unrealistic colors. Maybe it's that I lived in Italy, but this just felt a little unauthentic. I hate that I was so conflicted about the architecture and design, but I was just unimpressed by the painted walls.
Other than that, I do still think if you haven't been to the Getty Villa, it is worth the visit. On a clear day, you can see the ocean and it does feel like a getaway from the hustle and bustle of Los Angeles. Just getting out to Malibu already feels like a removal from the crazy of Los Angeles. You really only need a couple of hours to visit here. It's quite small compared to most museums like the Getty or even LACMA. Make a morning out of it and head to Malibu Farms for breakfast which is just 10 mins north on PCH.
Ps. I usually say to not forget to look up when you're traveling, but this time, don't forget to look down. The tile floor designs are just beautiful. The many different floor designs made up for how conflicted I was feeling about the architecture/design choices. Thus, the large amount of pictures of the awesome flooring featuring my chucks. Enjoy!
Yours Truly // Shannon