It's inevitable. When you return from a trip, friends always ask where was your favorite place you visited. Usually I don't have a favorite and struggle with this answer because generally I like everywhere I visit. During this past trip, sure I absolutely loved so many of the stops on my trip, but I do have a favorite. My absolute favorite place I visited was Cambodia and I'll tell you it was definitely in part because of the people I encountered and my fabulous stay at the Golden Temple Residence hotel.
We were greeted by not only smiling faces but also a traditional Cambodian dance performance by the pool with our welcome. This is a nightly performance, by the way. Aside from the smiles faces you immediately will notice the beautiful and traditional Cambodian decor. The architecture and the decor are so warm and welcoming.
This is one hotel that I will always remember. Learn more about my experiences with Golden Temple Residence hotel below!
SERVICE
I'm putting this category at the very top because the service at this hotel was pretty much impeccable. They honestly will bend over backwards to make sure you are well taken care of. A pickup and drop off service to and from the airport or bus station is available. The second you arrive at the hotel, you're immediately greeted by a welcome drink and welcome snacks. I wish I could bottle up the delicious lemon iced tea they serve as their welcome drink, yum. Anything you need or want is handled by their staff and not just with a smile but with such genuine excitement. If you encounter Rose or Alice at the front desk, you will absolutely know why I had such a great experience.
LOCATION
The hotel itself is only about 20 minutes from the airport which is super convenient. It's a nice change to most airports that are an hour or so outside of a city. It was also nice that it's a small airport so for an international flight we only had to leave 2 hours before our flight. We got to the airport and through security so quickly.
Golden Temple Residence is also very centrally located. It is not even a 5 minute walk from the Angkor Night Market and the Pub Street bars. It is also just 4 miles from Angkor Wat which is key if you want to try to catch the sunrise. It's about a 15 minute drive to get there early for the best viewing spot.
FOOD
The quality of food is incredibly high at the Golden Temple Residence. They truly set their standard so high that it shows through their food. Honestly, the welcome snack that was serviced was delicious so I knew their full menu of Khmer food would be amazing. Even the room service food was just as delicious as sitting at their restaurant which can't always be said for a hotel.
On top of that the hotel offers a daily buffet breakfast complete with fresh squeezed juices and made to order hot foods. They have another really awesome complimentary service for when you're out seeing the temples. They will pack a breakfast or lunch for you to have out at the temples. And finally there is a one hour cocktail each day by the pool.
We, also, had the opportunity to have a cooking lesson (which you too can schedule!) with the head chef and saw first hand the care they put into prepping their food. Everything is fresh and thoughtfully crafted. If you have the chance, this was a great way to learn more about the Cambodia Khmer culture.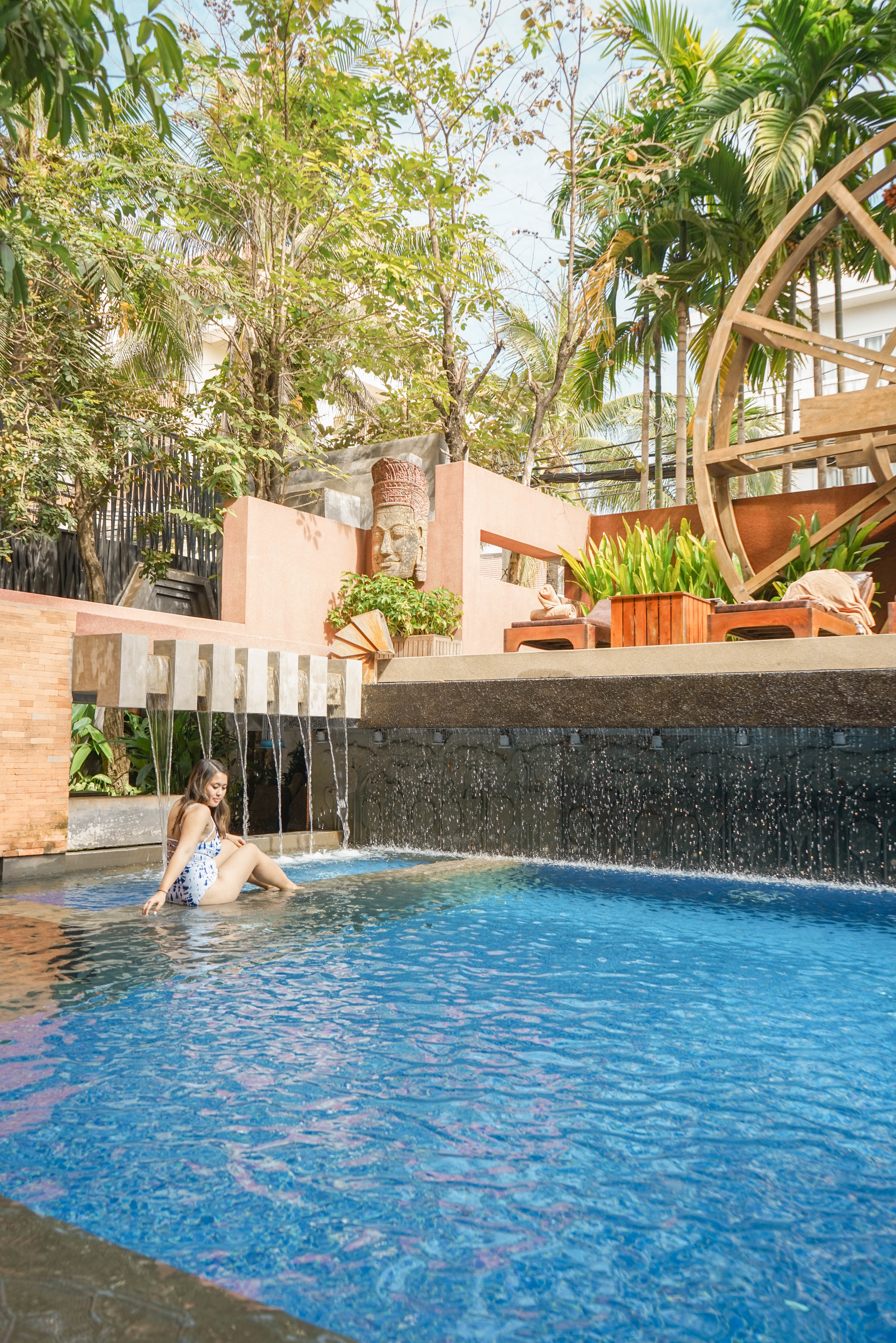 AMENITIES
What doesn't the Golden Temple Residence have to offer? On top of the stunning pool, swim up pool bar, luxurious lotus spa and first class food, they offer tons of ways to help you see the Siem Reap area. You can choose from any of their excursions from a full tour of Angkor, horseback riding, helicopter tours to a silk farm or even golfing. If you don't want to choose any of their pre-made tours, they literally will build you a tour set to your specifics. We were able to dictate exactly which temples we wanted to do within a 1.5 day timeline and were able to fit in a cooking class back at the hotel to boot. On top of being able to book our own tour through Golden Temple Residence, it was a private tour in a Lexus, not a tuk tuk!
ROOMS
Since the hotel only has 28 rooms total, you really feel like you're staying with friends rather than a hotel. I've already talked about their amazing customer service, but I think that really shows more since there are less rooms. The rooms itself are beautiful as the rest of the hotel. They're very spacious and clean, but on top of that it's the little details in the room that make it amazing. When we first walked into our room, the bed was covered in lotus flowers. The sink was also full of floating lotus flowers and boy did they smell incredible.
Trust me, when you find yourself in Cambodia, stay at the Golden Temple Residence. You will feel like a king, be able to discover what Siem Reap has to offer and experience firsthand the amazing kindness, service and hospitality of the Cambodian people.
Check out the Golden Temple Residence, here.
There are actually 5 Golden Temple locations in the Siem Reap area. Learn more about each of them, here.
*Sponsored Post: My hotel stay was provided in collaboration with Golden Temple Residence! All opinions are my own.