It's only been a week and a half since I got back from my trip to the beautiful island of Bali. I had the time of my life, literally loving every second of being in such an incredible place. My absolute favorite part of my trip to Bali was my time spent in Ubud. Granted, this includes so many things. Since I can't actually pick just one favorite memory, I thought I could walk you through my Ubud highlights - what to see, where to eat, where to shop and what to do. Ubud is a huge area with so many things to do. I still didn't feel like I got to see all that it offers, but this was definitely a great start. Be warned, I took so many pictures during this trip, I just could not find it possible to cut down the number of photos in this post. They're all just too good. Enjoy!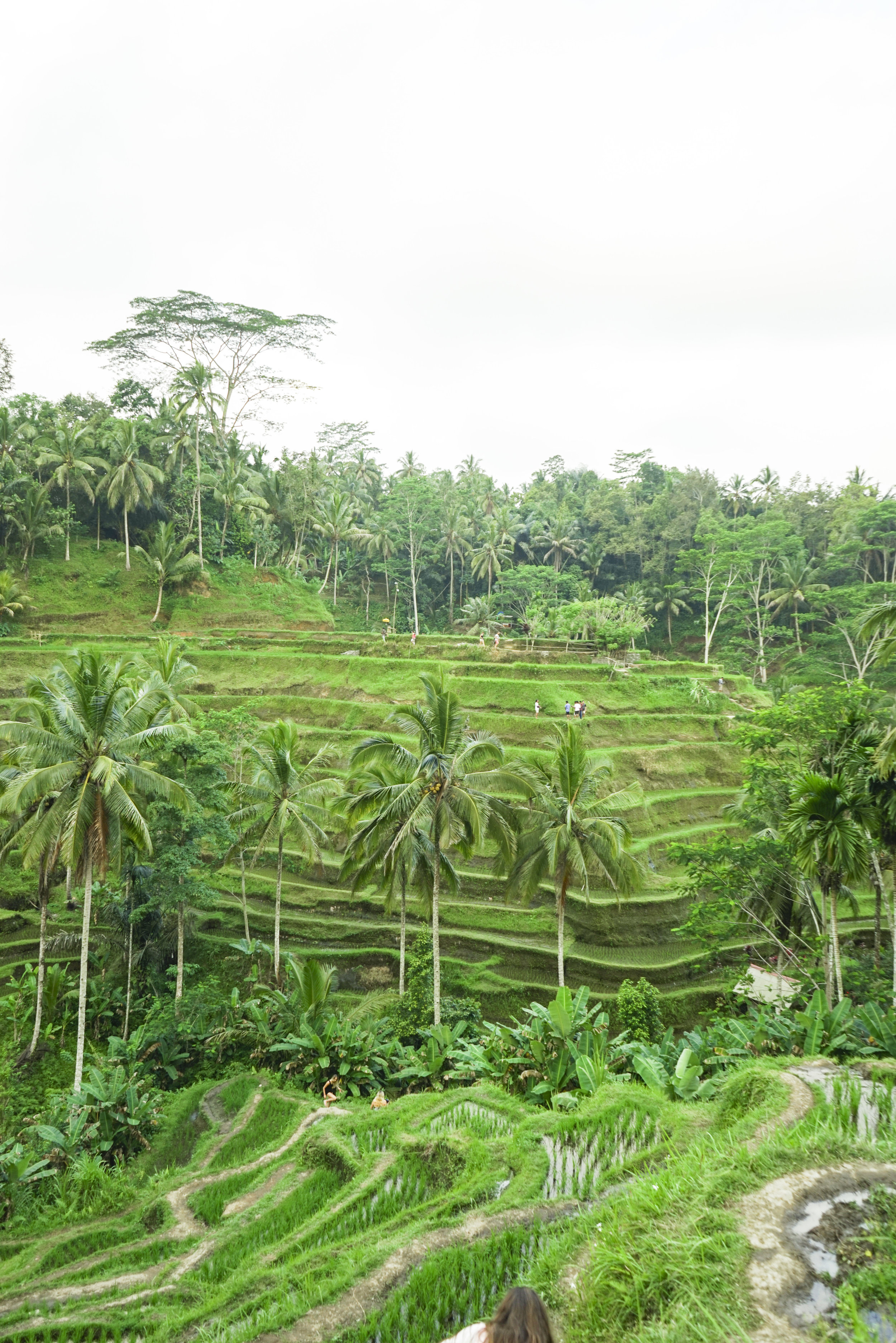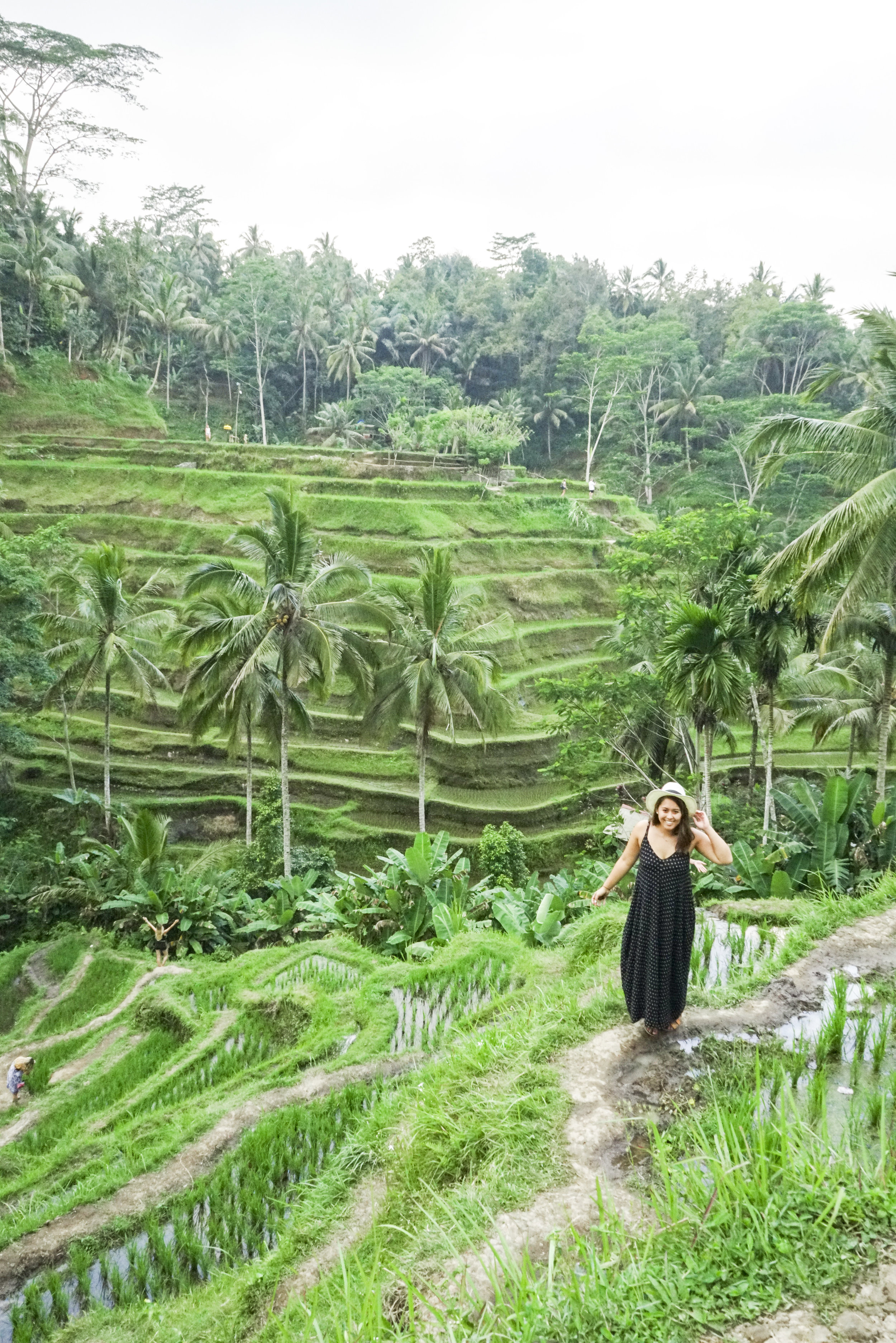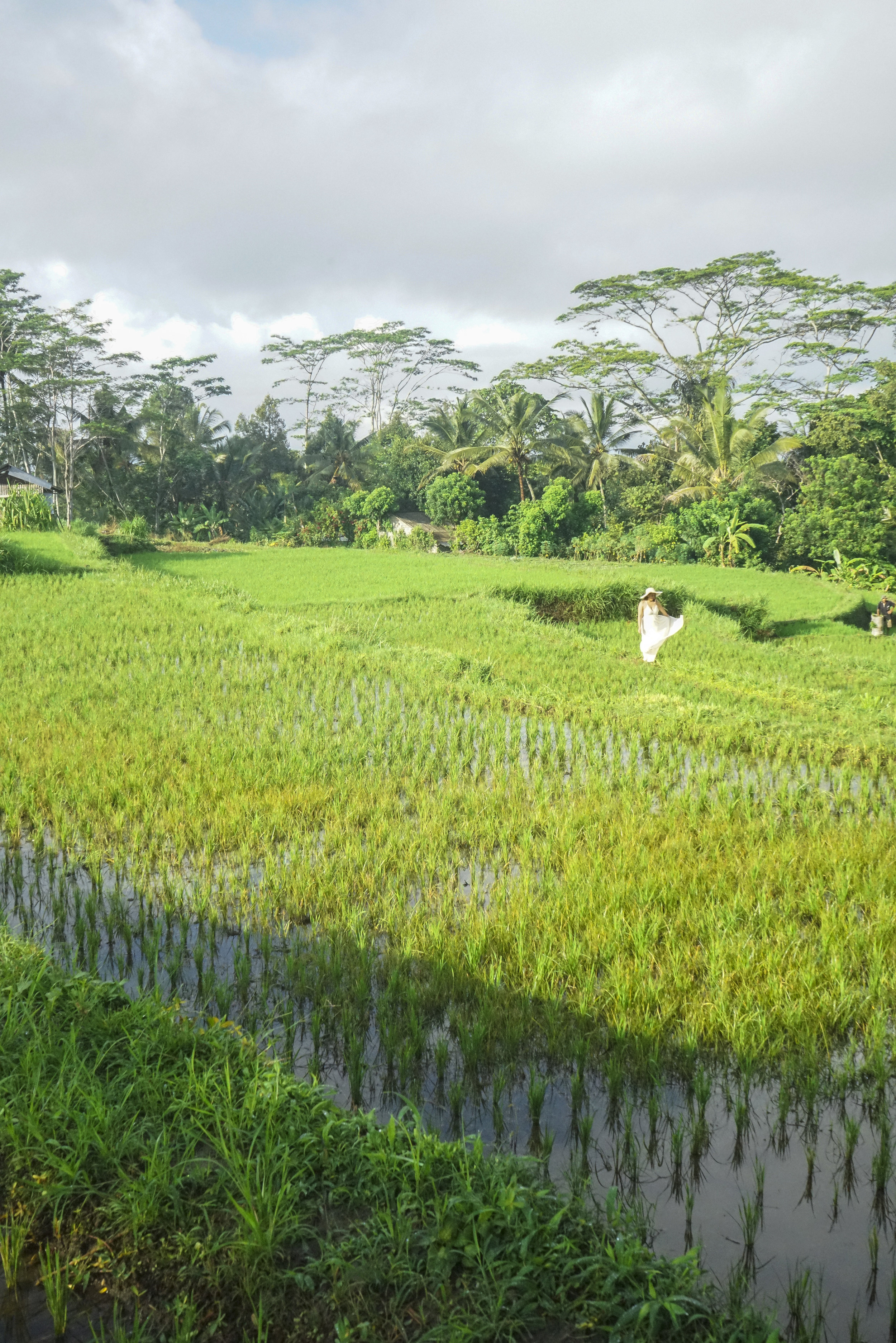 SEE
RICE TERRACES
Almost everywhere you look you can see rice terraces and fields in Ubud. And every single time, I literally had to pinch myself that I was actually seeing these beautiful scenes in person. I had dreamed of visiting Rice fields every time I thought about traveling and trust me I think about traveling multiple times a day. Taking a walk through the picturesque fields is an absolute must. The Tegallalang Rice Terraces are the most famous. They have that steep tiered look.
COFFEE PLANTATIONS
Taking a tea break in the middle of the rainforest is something that everyone should do once in their life. Sitting there just listening to the sounds of the jungle is crazy. The jungle is a very noisy, loud place which is oddly soothing. You basically are hearing thousands of animals, if not more, at once - insects, frogs, monkeys and so many more. Also, you'll get to taste some of the best coffee (so I'm told - I'm not a coffee drinker) and great teas that you've never heard of before. I was obsessed with a tea called Rosella. Not sure what it is but boy was it delicious. You can also learn the whole process of them growing the coffee beans, their brew process and even a unique kind of coffee made from crazy animal digestion (don't ask).
EAT
IBU OKA
I had done a little bit of research about food to eat in Bali and Ibu Oka came up so many times. Our tour guides even confirmed this was the place to go to get suckling pig. Ibu Oka is the best when it comes to this dish as it literally was the only thing to get here (at least that I can remember). They basically gut out a whole pig jam pack it with spices and roast it on a spit all day. Since it is made before hand, once you order, it literally comes on in two minutes. I think I had pork 5 different ways on my plate. There is no describing it, you just have to experience it for yourself. Don't forget the Bintang!
CAFE WAYAN
Fun fact the Balinese have a system of nicknames for their families based on the birth order. The typical amount of children is 4. The first born is called Wayan, the second is called Made (pronounced ma-day), the third is Komang and the fourth Ketut. So, Cafe Wayan, is the restaurant of a first born child. Cafe Wayan is a great place to stop for a bite to eat, or just grab some water which is what we did since it was so humid that day. They have a delicious menu and even the bathrooms are filled with colorful flowers and look like they could be part of a temple.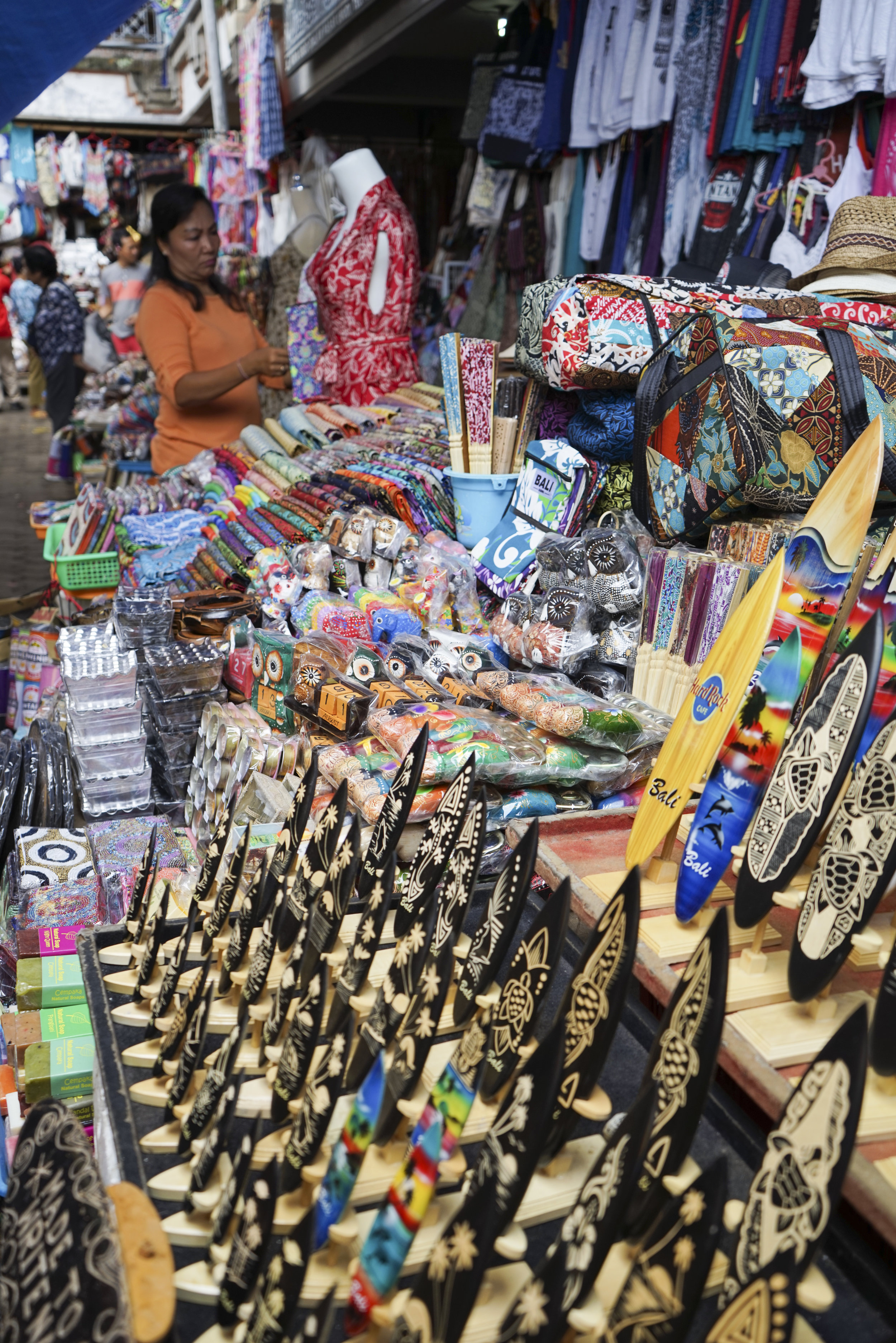 SHOP
UBUD MARKET
Ubud Market is the place to be if you want to shop while in Bali. It is filled with the best kind of chaos in the form of bargaining. You'll find everything you could ever want from Bali at the Ubud Market. You want a colorful sarong? They have thousands. You want a beautiful wood carving to take home? They have wood carvings galore. You want a penis shaped bottle opener? Literally all the bottle openers were that shape. No joke, they're at almost every stall. Just kidding do you really want a penis bottle opener? Anyway, come here to get your souvenirs and goods and be ready to strike up a deal. Always offer less than what you want to pay so there's room to go up in price. And always be ready to walk away. They'll run after you and give it to you at the price you want. We loved this place so much that even after we left Ubud, we hired a car on our last day just to drive us back to shop more.
MONKEY FOREST DRIVE
If you visit the Monkey Forest first thing in the morning and then intend to shop the rest of the day - that's what we did - you'll have to head down Monkey Forest Drive to get to the Ubud Market. It's a pretty long street with a good amount of uphill but if you're shopping along the way, it's not so bad. Or you have the option to hop in a taxi to head up the street to maybe Cafe Wayan (on Monkey Forest Drive) or Ibu Oka near the temple for some food. Regardless, there are a ton of cute shops and boutiques to hit up on this street. Just know most of these places, the prices are fixed, so you'll have to hold onto your bargaining skills until you go to the marketplace.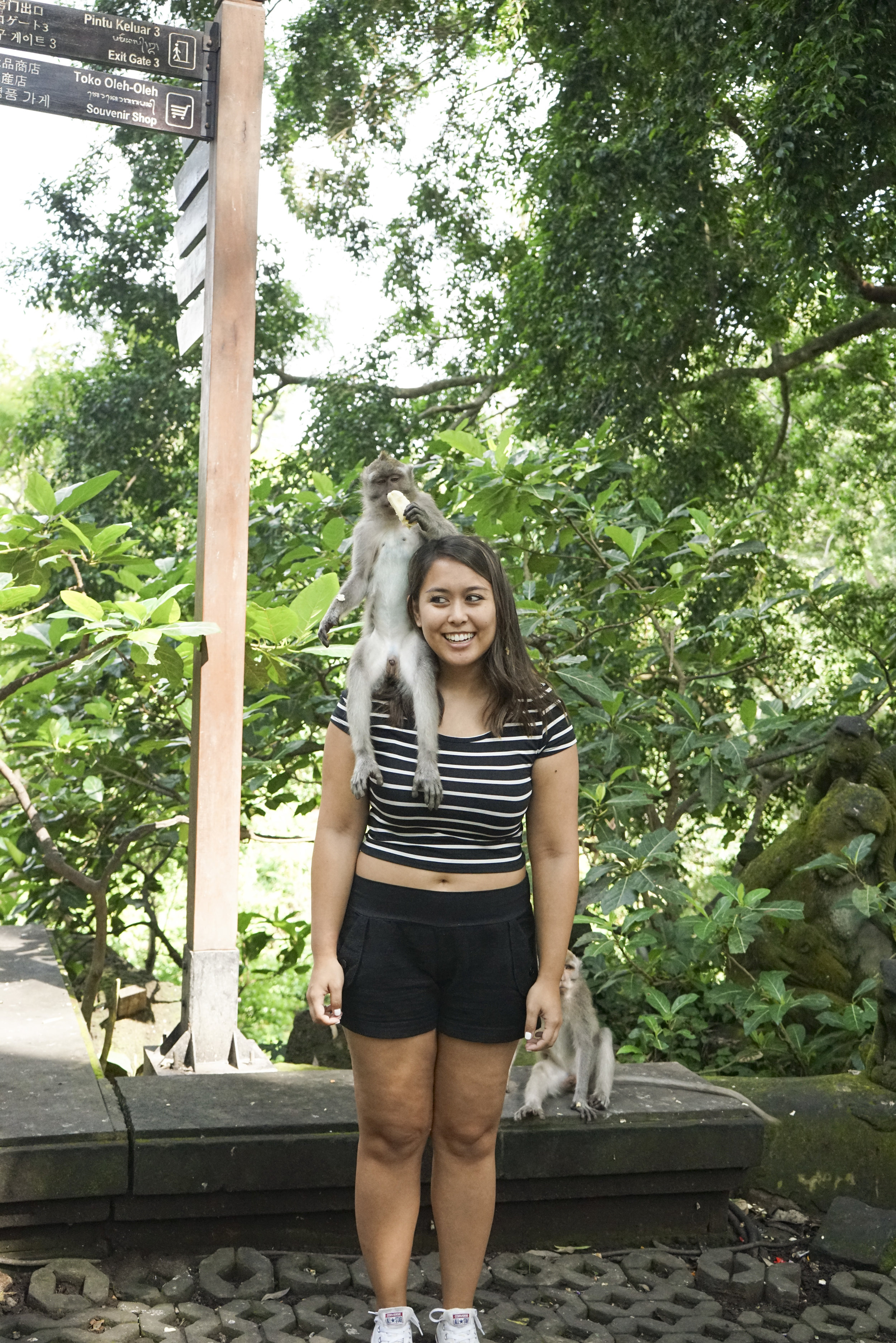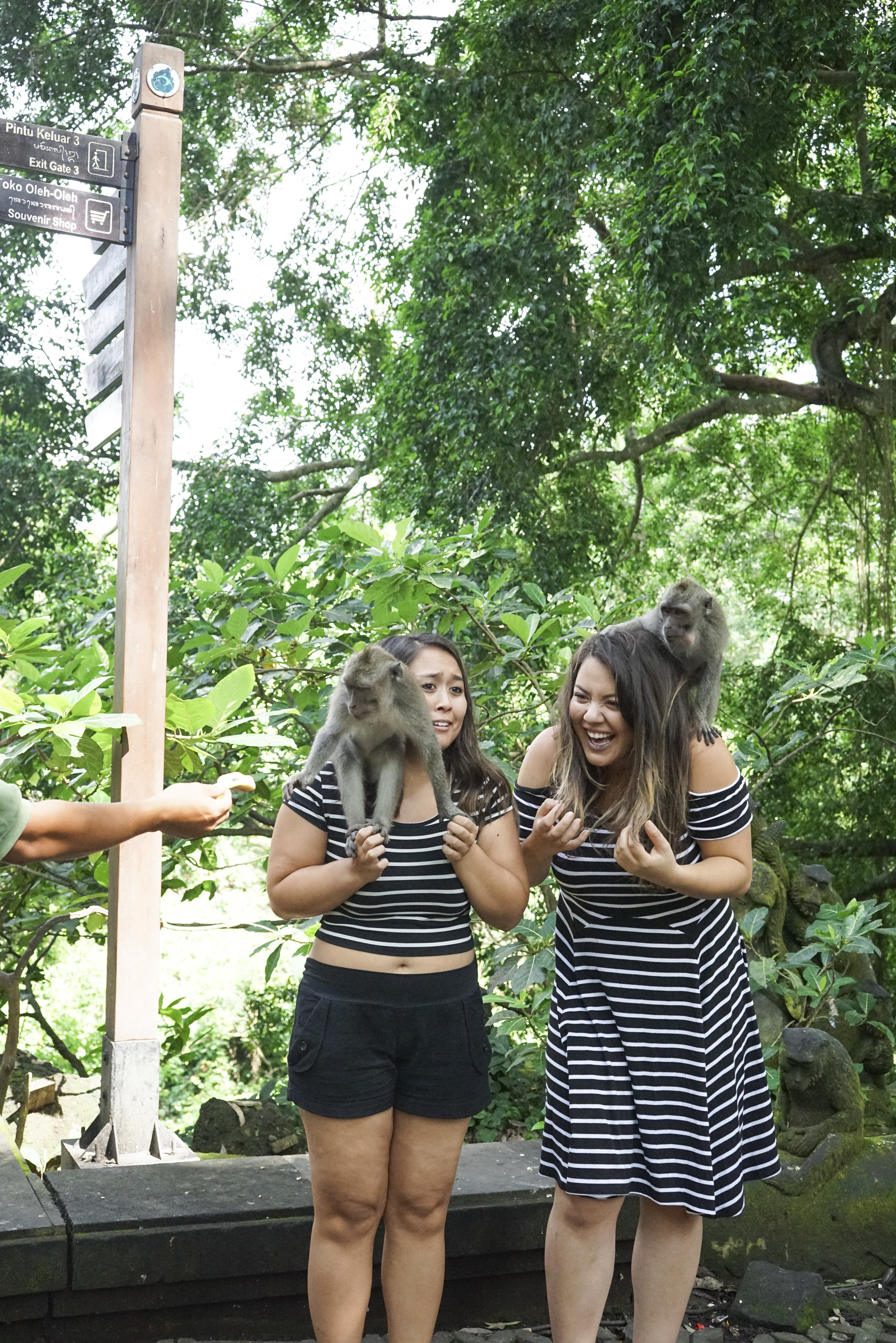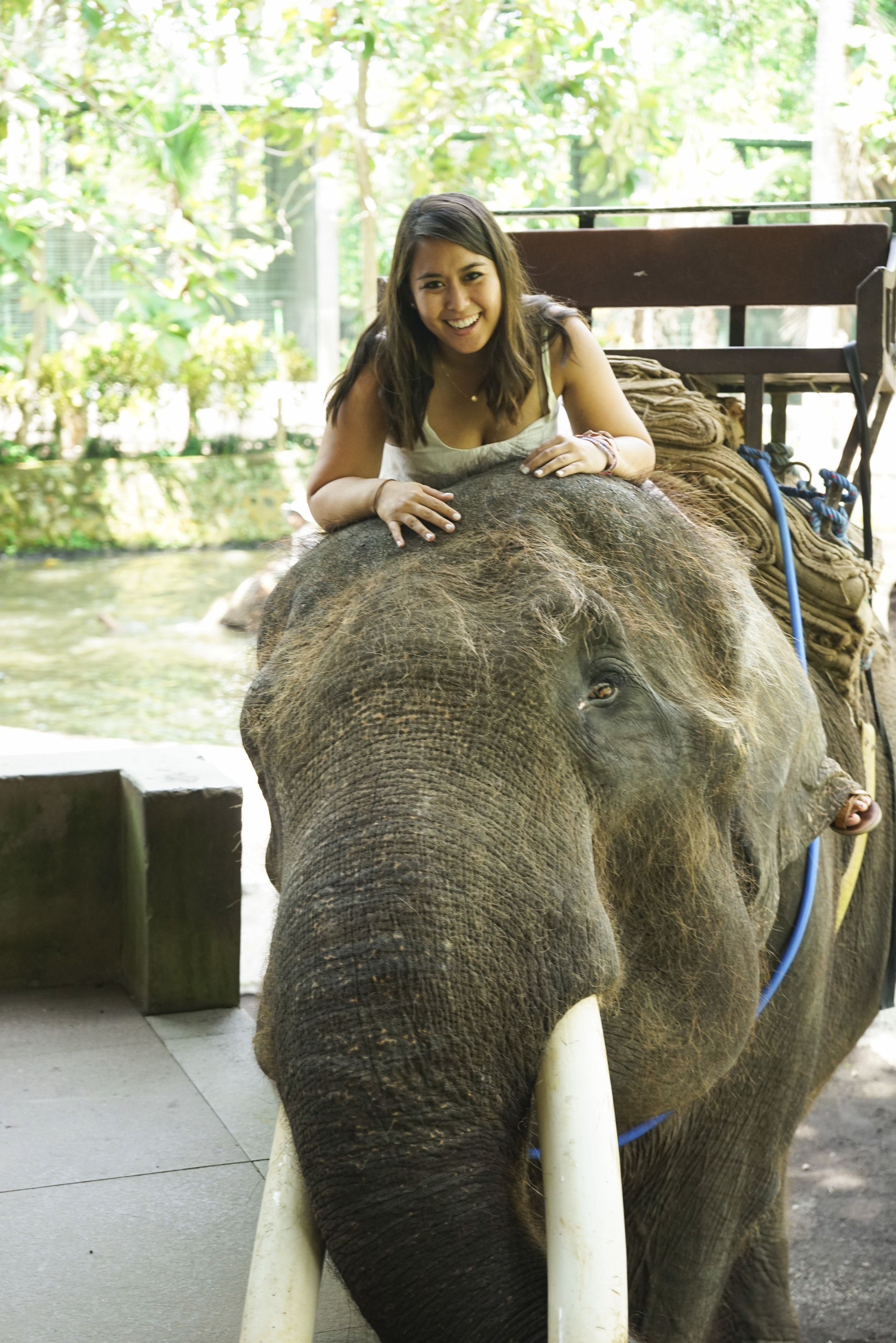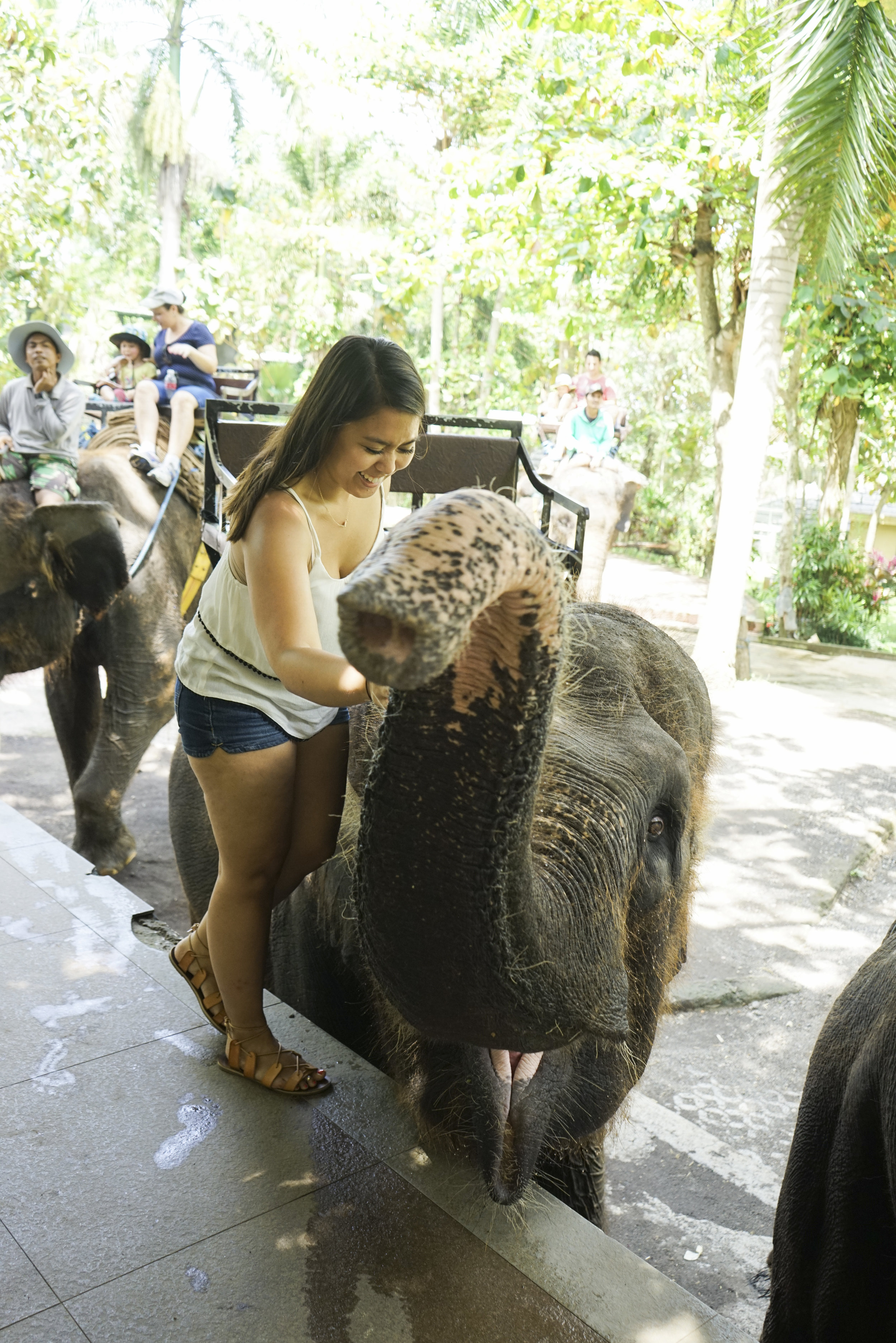 DO
MONKEY FOREST
I will probably go further into detail on the Monkey Forest Sanctuary in a later post (here) because really I need to tell you in detail about the Monkey Forest. But point is, add this to your must do list. Those monkey are equal parts terrifying wild animals and so cute you just want to cuddle them at the same time that you have to see them for yourself. Maybe you'll make a new friend. Also, please note how funny it was that my friend and I are literally matching in the photo above. Out of all the different types of stripes that exist, we had on the EXACT same type on the same day on accident.
ELEPHANT RIDE
I've always wanted to take a ride on an elephant. They are one of my two favorite animals. Dolphins and Elephants, they're just the cutest. I feel like riding an elephant in Thailand is probably something you hear about more, but I think this is still something to add to the list while you're in Bali.
I don't think you could find anything in Ubud that isn't super picturesque and awesome. If this post makes you want to go to Bali asap, we're on the same page. Sorting through my pictures made me miss this beautiful country so much. If only I could have spent longer than a week there. C'est la vie.
Yours truly // Shannon
View all my posts about Bali: