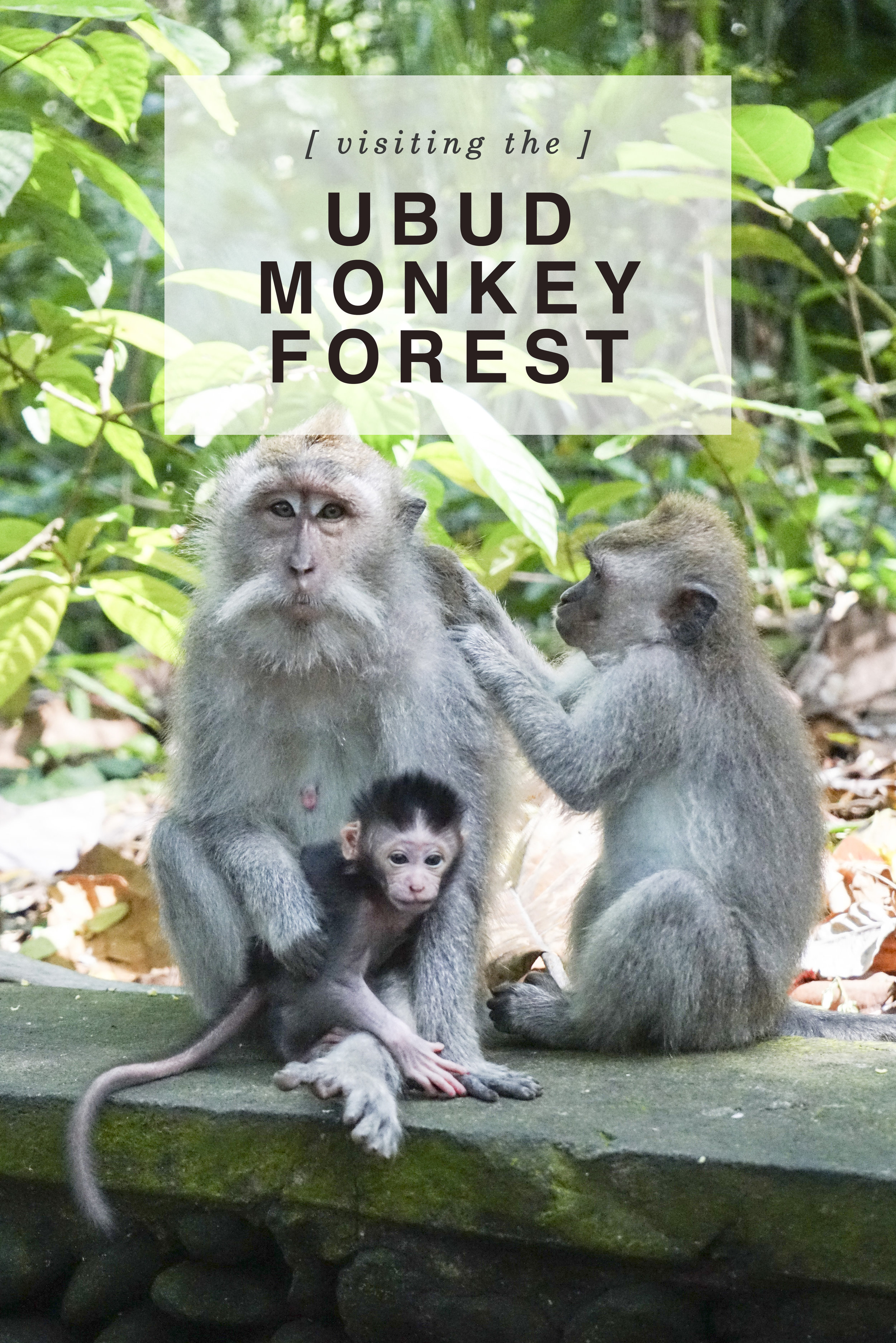 There are about 600 monkeys that live in the Monkey Forest. It can be an intimidating place. But it was such an awesome experience. I read about these rules beforehand, and at the sanctuary, so I thought I'd share. There are definitely some things you should know before going to the Monkey Forest. Don't use them as rough guidelines, just follow them - trust me:
REMOVE ALL LOOSE ITEMS & JEWELRY
Make sure to take off and put away your earrings, rings, necklaces, sunglasses, hats and so on. The monkeys can be very quick to steal loose items. I'd just remove them before going there just to save yourself the heartache.
DON'T BRING IN ANY FOOD
Don't even try to hide it, mints included. The monkeys will smell it even if it's in your purse and go to great lengths to get it. I saw a monkey search this guy and didn't stop until it found the snack in the guys front pocket.
DON'T PANIC
If a monkey jumps on you, don't push it off. Calmly keep walking and it will eventually leave you alone. (That is if you don't have any food on you). If you push it off, you might piss it off. Remember, these are wild animals, so tread lightly.
DON'T TOUCH
Really don't try your luck at trying to pet the monkeys. They're wild animals and they can and probably will react in an unexpected way. The signs say to not make eye contact with the monkeys. Apparently, that's a sign of aggression to the monkeys.
FIRMLY HOLD ONTO BELONGINGS
As recommended, remove all loose items as you can. It's probably best to have a cross body bag just so you don't have to worry about the Monkeys trying to get ahold on it. Don't bring in any plastic bags or water bottles. The monkeys will steal them and not give them back.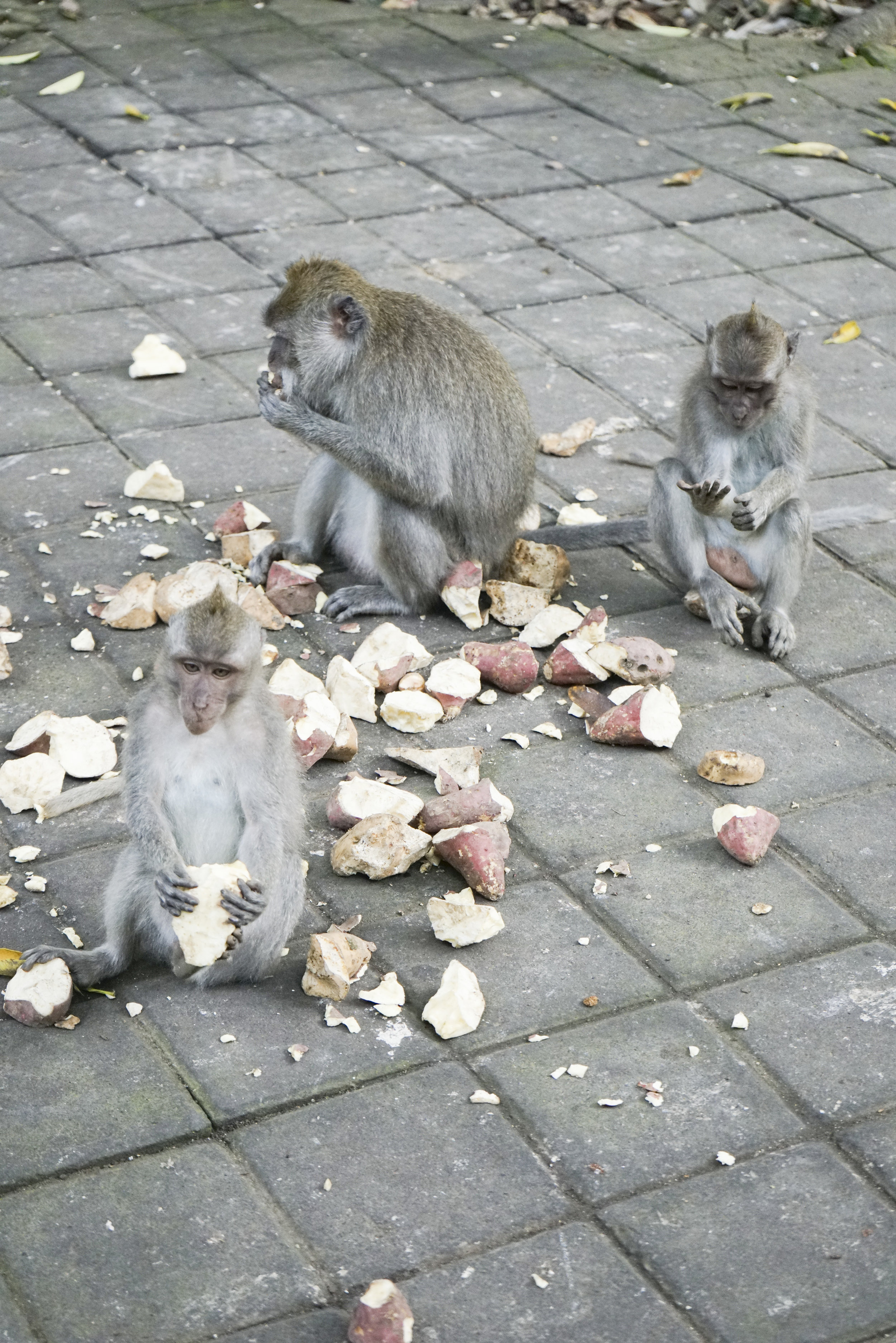 I know these rules sound super intense, but don't let them discourage you from visiting. I was definitely pretty worried and excited to go to see the monkeys. It was a bit scary having wild animals running free around you with the fear they could attack you, but really if you respect them and leave them alone, they will leave you alone. The fear quickly wore off! It is still a sacred place and respecting the rules of the sanctuary is important.
If you decide to buy a bundle of bananas, I'd recommend you do it towards the end of your explorations in the forest and with one of the workers to help you. I've heard some horror stories of people getting attached and bitten by teasing the monkeys or giving out too many bananas and the monkeys following them. I had one of the guys hold a banana over my shoulder and then a monkey jumped up and proceeded to just use my shoulder as a perch to eat his snack on. I had a perfectly safe experience feeding the monkeys. Granted I had my fists clenched at first because I was so scared and I think the monkey thought I had food in them and tried to open my hands with his hands and teeth. Don't worry he didn't really bite me, no blood was drawn! My friend at one point had 3 monkeys hanging on her with the assistance of one of the workers. She had a great experience, as well, only leaving with a few scratches here and there. Just don't have any food or mints on you and you will be totally fine.
Point is, add the Sacred Monkey Forest to your must do Bali list. You won't regret it!
Yours Truly // Shannon
View all my posts about Bali: