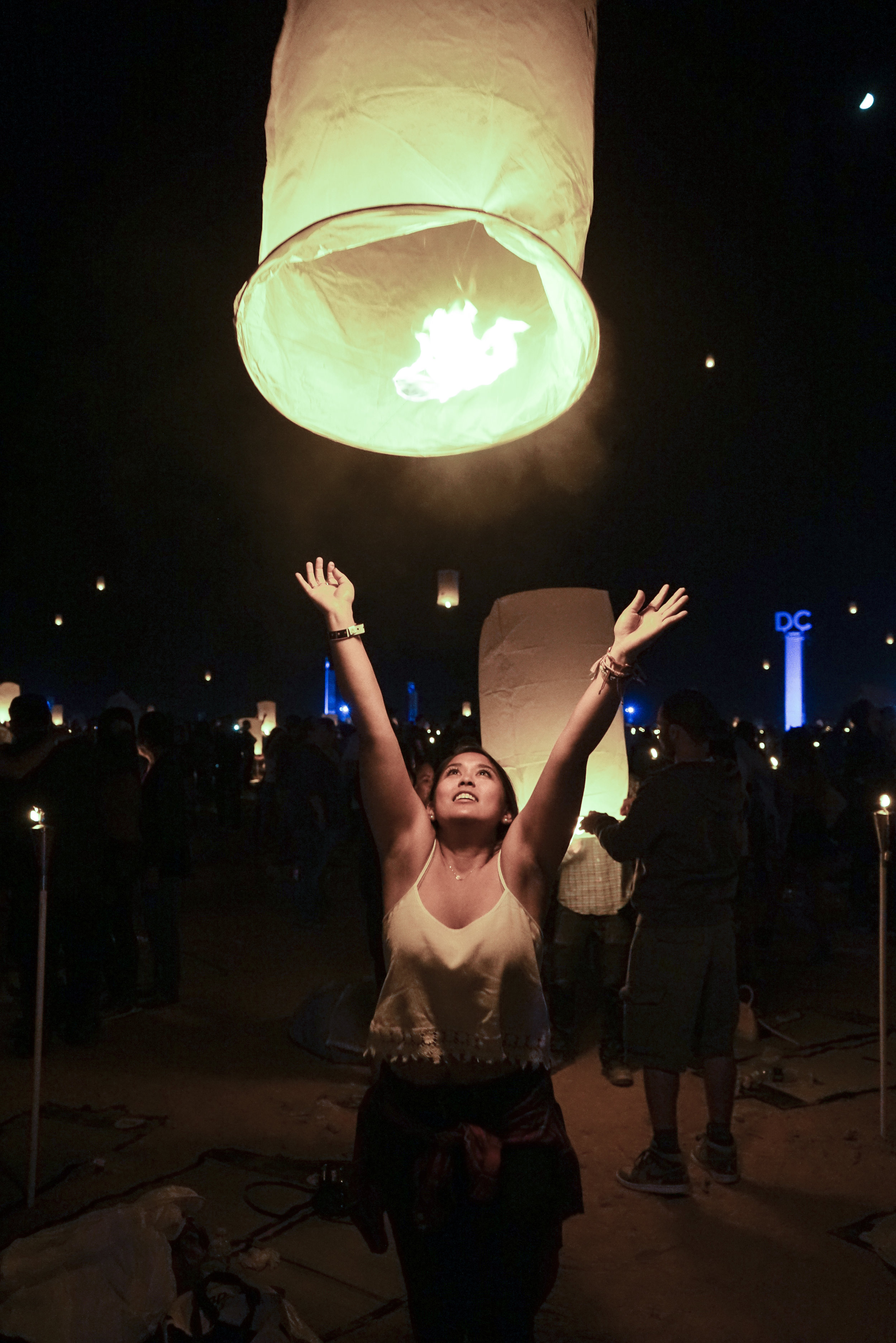 Do you remember that scene in the movie Tangled where Rapunzel dreams about going to see the "floating lights" that only appear on her birthday? Then Flynn takes her to see the floating lanterns from the water and it's absolutely magical? Well, guys this actually exists in real life. And you can witness this dream in person. You don't even need to go to Thailand to see it. Even though that would be the ultimate dream.
The Rise Festival happens every year just outside of Las Vegas where 10,000 people release lanterns into the sky all at once. I've been trying to get tickets for the past two years and finally landed the coveted tickets this year. Disclaimer, it was pretty challenging to get tickets only because they sell out so quickly. This is definitely not one of those events you can wait to buy tickets to.
The festival starts in the afternoon where you can come and see live local music. They have food trucks and people come to enjoy the atmosphere. You don't start releasing the lanterns until 8:30 or so, once its completely dark. I would definitely recommend getting there during daylight. We got there just as the sun went down and just felt a little rushed to grab food, a torch to sit by (to light the lanterns) and write on your lanterns.
I don't even think I could describe the feeling of seeing that many lanterns being released into the sky at the same time. I really almost cried because it was such a beautiful moment. People personalize and write on their lanterns with their hopes and fears, dreams, resolutions, prayers. It's a moment where everyone comes together with such a positive energy that is indescribable. Honestly, these pictures don't do it any justice. You really need to experience it for yourself. Fair warning, you use open flames to light your lanterns (that are made of paper), it does seem a little dangerous. It gets hot and sometimes tricky releasing the lanterns since the lanterns are not small. Try to have a group of at least 3-4. Either way, it was only my friend and I and we still released 8 lanterns by ourselves. It made for a really fun and funny experience.
Check out Rise, here.
I will most definitely be going next year, anyone else up for one of the most beautiful, awe-inspiring experiences you'll ever have?
Yours Truly // Shannon