Open for just over a year, the OUE Skypace in Downtown Los Angeles quickly made a name for itself because of its unique Skyslide. This glass slide hovers just about 1000 feet over the city where brave guests can slide from the 70th floor to the 69th floor. I'll repeat that. This is a glass slide. Yes, you can slide while looking straight down at the city. OUE Skyspace is also California's tallest open-air observation deck.
I've been to Skyspace twice now and honestly both visits were pretty different. The first time I went, it was just about sunset and the sun was quickly disappearing. The bright lights of the city by night were really awesome. The second time I went just as the OUE opened at 10am. There wasn't a cloud in the sky and all you could see off in the distance was blue skies. Both options are amazing. You can choose if city lights or blue skies are your jam. Regardless, either will be filled with views for miles.
The Skyslide is not for the faint of heart. I, personally, didn't find the slide to be that intimidating though. I guess it's because I've slowly earned the nickname of daredevil by my friends or maybe because its a pretty short ride. I'd say only a few seconds or more. You start on the 70th floor and slide one floor down to the 69th floor. You have to sit on a mat which really made the experience that less scary for me since it blocks some of the view. For my mom on the other hand, she screamed the whole way down. So, if you are scared of heights, you'll have to put on your best brave face for this one. Trust me, I think it's definitely worth one try. At least you can say you did it!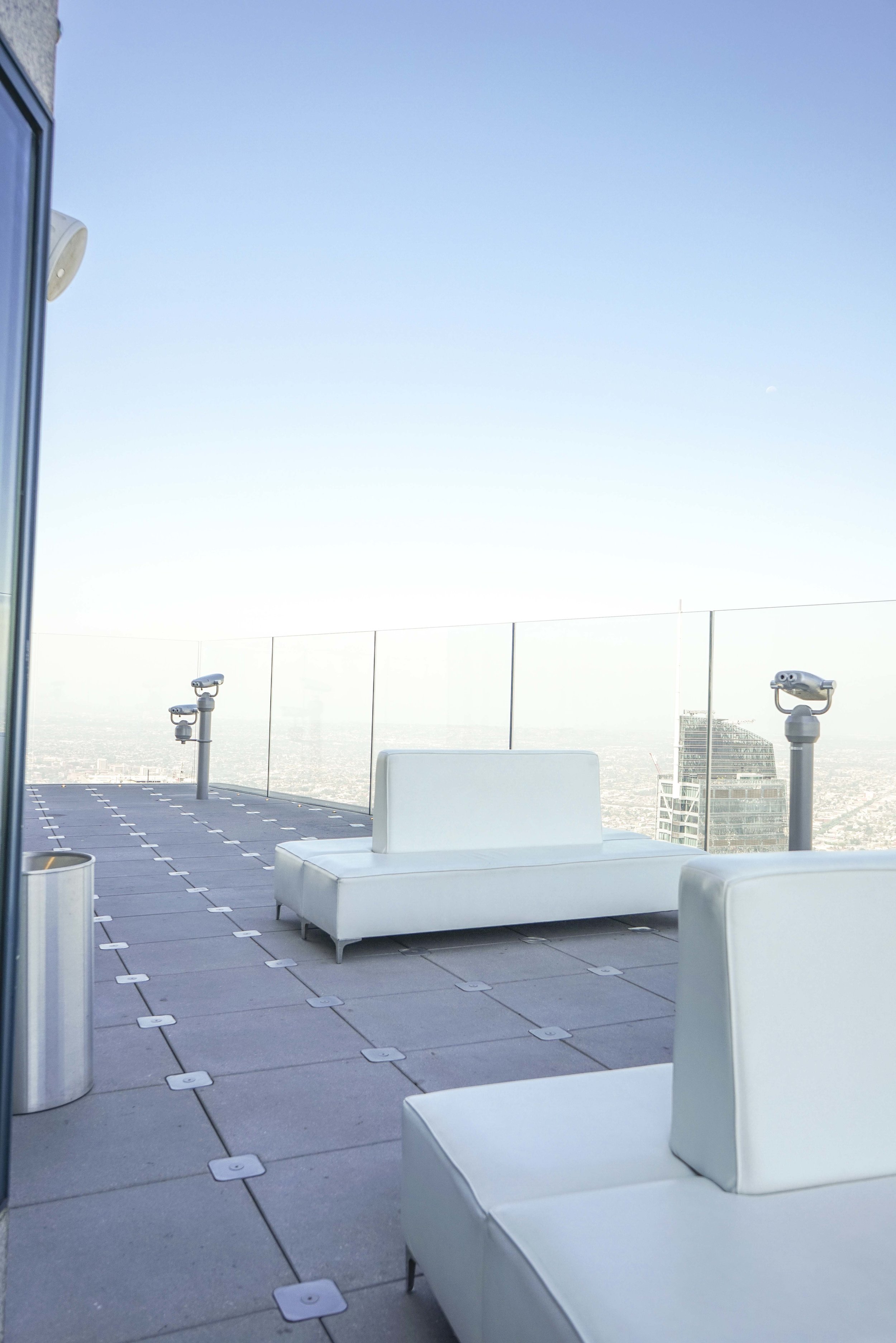 I think it's worth mentioning that you should be a little careful on your way down. My mom got a bit of a raspberry on her elbow as she still had momentum when she slid onto the mat at the bottom creating some friction. Don't worry, she's fine! I think a battle wound makes a good story. She conquered her fear so that definitely should be remembered. Her brave slide pictured below!
When you first get through security and are shuffled to the elevators, it really feels like you're waiting in line for a ride at Disneyland. I think it makes it a more exciting experience and really sets the tone. After your first elevator ride, you'll exit on the 54th floor for some pretty awesome interactive exhibits. They're unique experiences using technology that are much better experienced than me attempting to describe them.
Yes, the ticket price is a little high in my opinion, but most likely if you search in google, you can find a discounted rate. Technically, your ticket doesn't have a time frame, so you could spend the day here if you'd like. Your entrance is timed, but not the time spent here. They've added some great lounges throughout the 2 floors.
Time to plan your trip to OUE!
Yours Truly // Shannon