Vietnam is one of my favorite places that I've visited. There really is so much culture to see and it feels like you've been transported to another world. Vietnamese food was truly the highlight of my trip which you can read about here, but wandering around the city is definitely a close second.
This is one of those cities that you can just wander and wander. You'll really get to see more of the city that way. Getting lost in a city is probably one of my favorite things to do. You never know what you'll come across.
Here's a breakdown of my 2-day itinerary:
DAY ONE
Train Street
Bun Cha
Hang Trong Shopping
Hanoi Night Market
 
DAY TWO
Taoist Temple Quan Thanh
Ho Truc Bach Lake
Tran Quoc Pagoda
Cong Caphe
Read on for more on each place!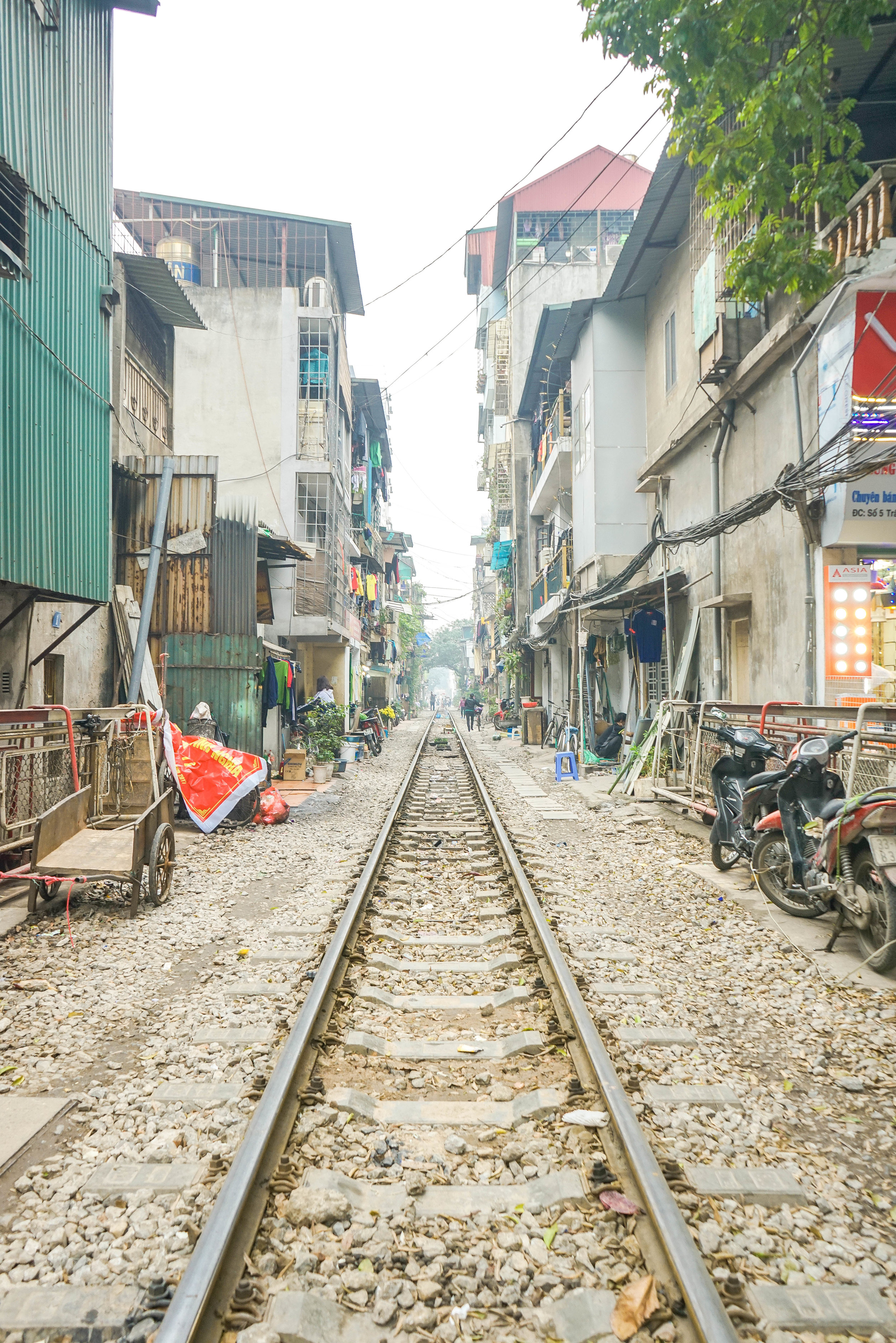 DAY ONE
Head to the infamous Train Street.
I had seen so many photos of this street in Hanoi where the train runs very narrowly between two buildings. It feels more like an alleyway than a street with a train track running through it. The street goes on for miles, so there are plenty of opportunities to check it out. I think this area is the best spot.
The best part is walking up the street and exploring some of the business on the street. We stumbled in the cutest paper store. They make their paper using the traditional Vietnamese paper-making techniques and have the cutest designs. They even offer a paper making tour if you have time. Check out Zo paper, here.
Grab some Bun Cha for lunch.
Head up the train street and you'll be just walking distance from Bun Cha was one of my favorite Vietnamese dishes I had in Vietnam. I had actually never heard of it before. Bun Cha (pronounced boon cha) is grilled fatty pork over a plate of white vermicelli rice noodles that you can dip in a sauce. It's accompanied by greens and the yummiest spring rolls. Head to this address, for the best Bun Cha! Read a more thorough description of where to find this place, here.
Shop til you drop on Hang Trong.
After you fill yourself with delicious Bun Cha wander around the around to shop till you drop, quite literally. You can head down Hang Trong, Hang Gai or Hang Bong. Each street is named for what products are sold there. Everything is grouped. Clothing in one area. Artisan goods in another. The shopping in Hanoi is amazing! They have some great "knock-off" goods including North Face, Fjallraven, Nike, and many more. Wandering around is the best way to discover which area is which.
You can try to bargain a bit, but they don't try to make as many deals as I've experienced in other countries. And trust me, I'm really good at bargaining, but here they didn't budge much in price.
Hit up the Hanoi Night Market.
After all of that shopping and wandering, you'll no doubt be exhausted. Head to the Hanoi Night Market to find some delicious food and even shop a little more. The scene is pretty lively and fun. Again, wandering around the streets is the best way to see the area.
DAY TWO
Today, head a little outside of the old quarter to explore some of the beautiful temples and buildings Hanoi has to offer.
Discover the Taoist Temple Quan Thanh.
The multi-door gate to the Taoist Temple Quan Thanh temple is everything that you would imagine a well-preserved Vietnamese temple to look like. It's actually quite unassuming as if I didn't know it was there while walking by I might not have stopped. The details are intricate and beautiful.
Walk around Ho Truc Bach lake.
Head just down the way, north from the Taoist Temple Quan Thanh to Ho Truc Bach Lake. You won't be able to miss it. As you're walking down the street, you'll find yourself with water to both your left and right. You can grab a coffee overlooking the lake or even rent a swan boat to go onto the lake.
Check out Tran Quoc Pagoda.
Sitting on the lake is Tran Quoc Pagoda. It's a great place to stop by for a quick photo or explore the grounds for a bit. There are also a ton of great stands to buy souvenirs just outside.
Grab a coffee at Cong Caphe.
Just on the north side of Ho Truc Bach lake, you'll find a Cong Caphe. There are actually multiple scattered around Hanoi, but this one offer a cute view of the lake. Cong Caphe is famous for their military, war decor.
I really enjoyed getting to see what seemed like two sided to the city of Hanoi. The old quarter is vibrant and full of hustle and bustle. You'll really get the feeling of the city. When you venture just outside of the old quarter, you'll get to see more of the beauty of the traditional looking Vietnamese buildings and temples. It's interesting to see the French influence on the city.
 
Special thanks, to my blogger friend, Kelsey, for giving us so much awesome advice on what to do while Hanoi. So happy we were able to meet in person! Check out Kelsey's blog, Miles of Smiles.
Yours Truly // Shannon