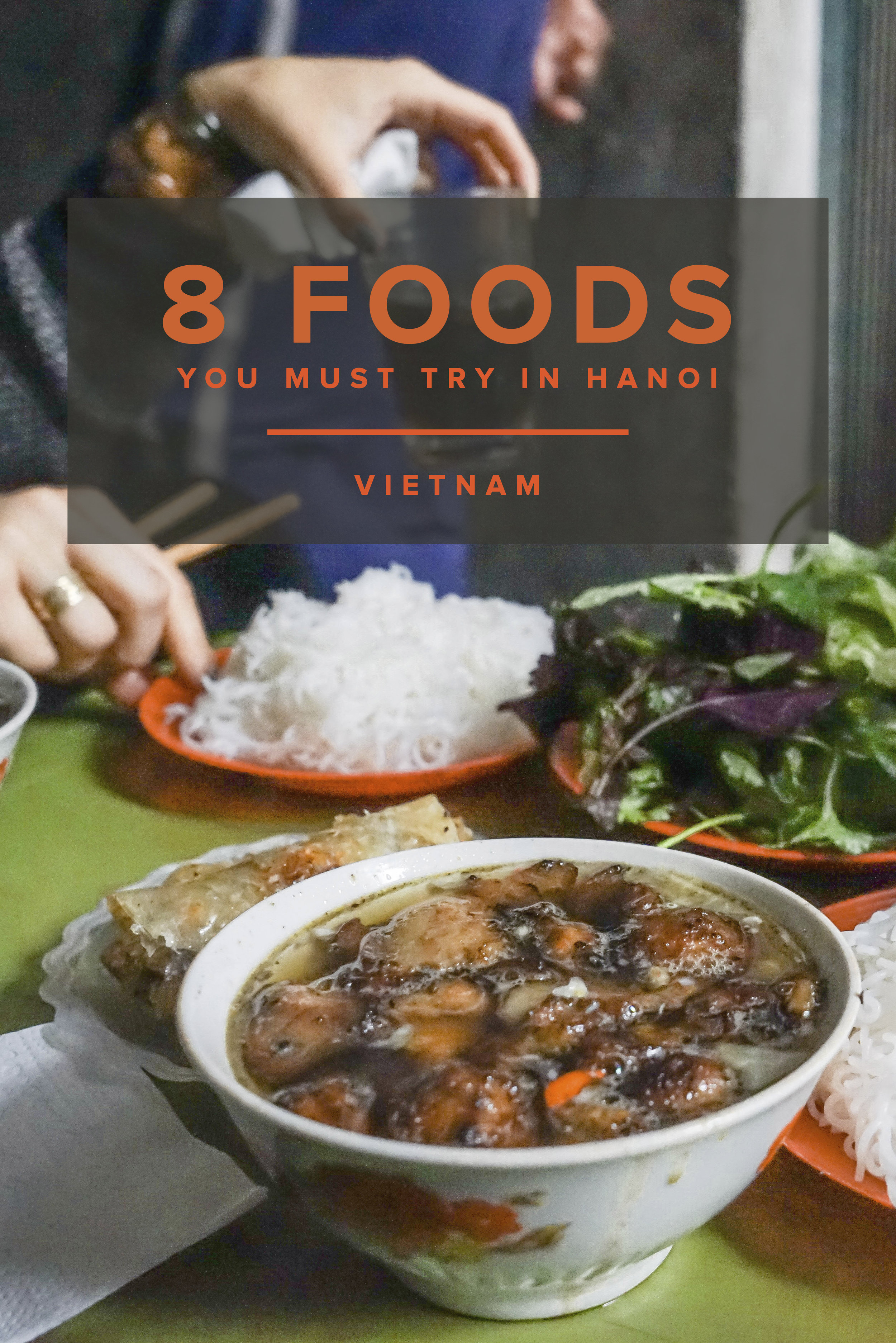 There's not much explanation needed for this blog post. When you make a trip to Hanoi, make sure to add all of these foods to your list of things to try. I've even linked the addresses for the stalls, restaurants and cafes we ate each food at. Most of the places didn't have names, but just star the addresses in your Google maps and you'll be good to go! I included some of the store fronts so you know exactly what the places look like.
Before traveling to Vietnam, I'm ashamed to admit that I really had only ever had pho. And on top of that I think I only had it once. I really didn't realize how many delicious Vietnamese foods I was missing out on. Obviously there are is so much more you can eat in Vietnam, but these were my favorites!
Here's the list. You're welcome.
one.
PHO [pronounced fa]:
a Vietnamese soup of broth, noodles, herbs and meat.
I've never really been a pho fan until I had pho almost every day in Vietnam. I know, I know. If you've had pho you probably think I'm crazy, but hear me out. It's not that I didn't like it. I just had never had it until college. I grew up eating ramen frequently and really had never tried Vietnamese food since I'm Chinese. Now I know what I've been missing out on.
You can find Pho everywhere in Vietnam. Can't really go wrong!
two.
BUN CHA [pronounced boon cha]:
grilled fatty pork over a plate of white rice noodles with a dipping sauce.
I had never heard of bun cha before my trip, much like most other Vietnamese foods, but my gosh this dish is delicious and very filling. At least where we ate, they served so much food. On top of getting a bowl of meat and a large plate of white rice noodles, you also get a heaping mound of fresh greens and spring rolls, too. Just thinking about how much flavor the grilled pork has is making me hungry.
Want to eat where I ate? Head to this address and look for the signage in the picture above. It's a small alley way literally in the middle of two buildings. Walk straight back and past the first chairs along the wall. A lady will greet you and show you to an open table. There's no ordering necessary here (besides a drink), all they serve their specialty, bun cha! I've heard this place is good, as well.
three.
BAHN MI [pronounced bon me]:
the most delicious sandwich on a french baguette.
This is one Vietnamese food that I crave - it is so good. Basically you can get juicy meat like beef or pork belly accompanied by shredded and pickled carrots and radishes and cilantro on a fresh baguette.
One night we were on a search to eat some bahn mi and stumbled across this place. Don't be fooled that the sign says Yogurt Bar and look for the smaller sign that says Bahn Mi 14. The cart out from offers about 8 different types of bahn mi's freshly made to order by the sweetest lady. You won't be able to just get one, trust me.
four.
PHO CUON [pronounced fuh kwon]:
white rice noodle rolls filled with meat and vegetables.
I was told by a friend living in Hanoi that I had to try pho cuon while in Vietnam. She said it was better to have than traditional pho. She was definitely right. These look a lot like spring rolls but are made from white rice noodles not clear rice wrappers or wonton wrappers.
Head to Huong Mai Noodle Roll. A recommendation from my local friend. When you arrive there are two locations just across the street from each other. It doesn't matter which side you dine in, the menu is the same!
five.
PHO TRON [pronounced fuh tron]:
cold beef noodle salad.
This was hands down my favorite dish I had in Vietnam and quite frankly is pretty high on my list of favorite foods now, too. We weren't all too sure what we were ordering but the photos on their menu looked delicious and it looked like a good compliment to the pho cuon we just ordered. In all honesty, I thought I was going to love the pho cuon and just have a little of the pho tron, but I was so off. Pho tron, a must try.
You can try Pho Tron at Huong Man Noodle Roll, too!
six.
CONG COFFEE
There are multiple locations for Cong Caphe in Hanoi and I think all of Vietnam. The decor of the locations are really cool. They have a really cool, old school military vibe and everything is really well decorated to that theme. Head here for their coconut coffee. Another recommendation from my local friend. I'm not a coffee drinker, but if you stop into a Cong Caphe grab one of their famous coconut coffees. My friend had one and said it was delicious.
seven.
EGG COFFEE
If you're a coffee drinker, you may have heard of egg coffee. It's a Vietnamese coffee drink prepared with egg yolks and condensed milk.
If you're looking for a place to try egg coffee or really just a great place to take a break, stop by Cafe Phố Cổ in the old quarter. It's a little tricky to find. Even while looking at a map, my friend and I passed by it so many times. This is where it is located. It is not labeled on the outside. The store front is actually a clothing store, but if you peer inside, you'll see the small Cafe Phố Cổ sign. After heading down the long aisle, you can order your drinks and snacks at the desk just to the left. After ordering, head all the way to the top of the building for an incredible view of Hoàn Kiếm Lake. You'll have to walk up 3-4 floors to get to the top, but it's so worth it.
eight.
FRENCH PASTRIES
I didn't realize this before, but the capital of Vietnam, Hanoi, was actually built by the French. Because of this there is a lot of French influence leftover. One of the major French influcences was its pastries. Remember bahn mi's? They're made with fresh French pastries. There are lots of great little French bakeries all over the city. It's really hard to resist the smell of freshly baked croissants, so pop into one and grab some French pastries.