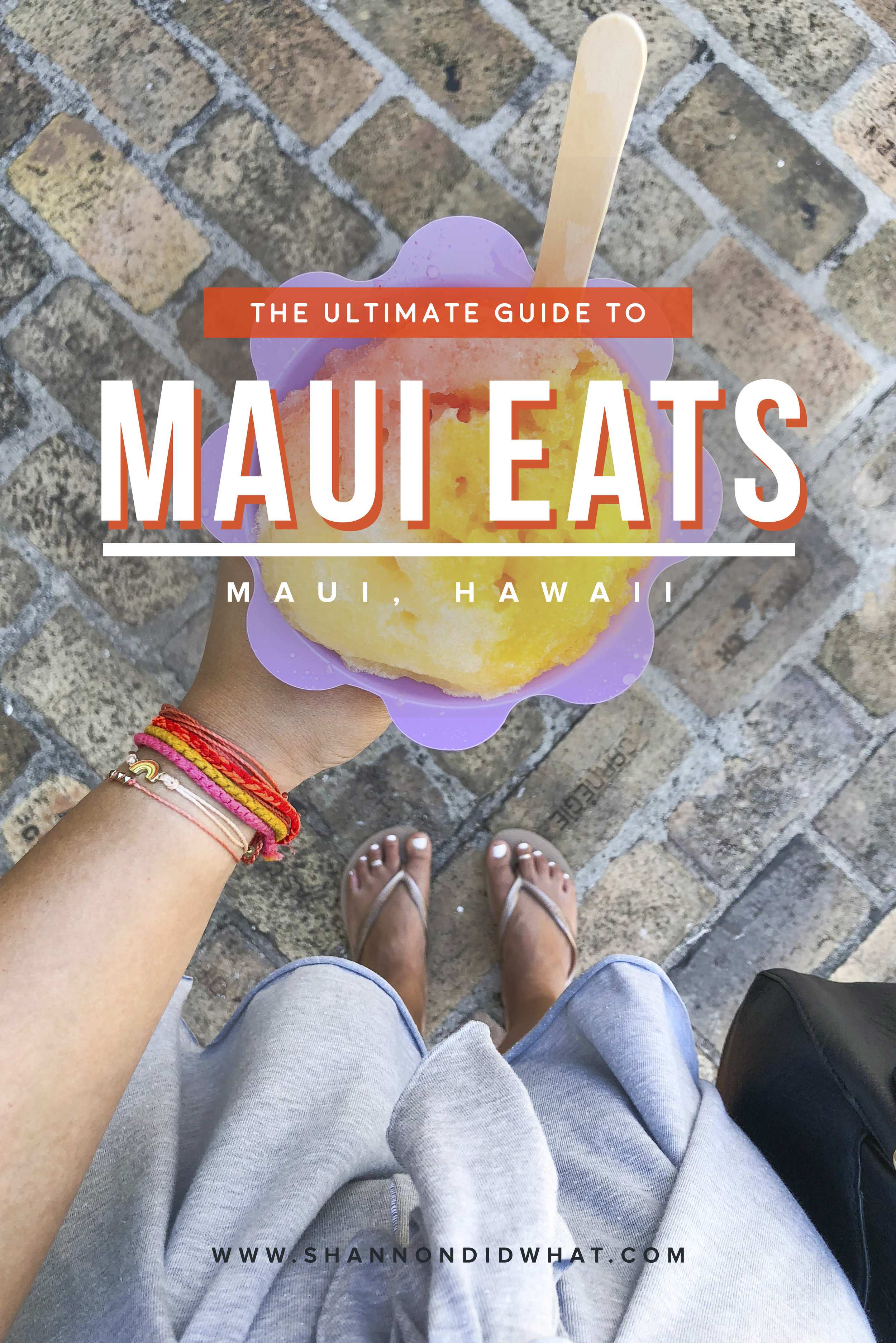 When I was trying to figure out what blog posts to write about Maui, I started outlining out the usual ones - where to go, Instagrammable Spots, hidden finds - and then I thought, wait, how could I forget about the food? It dawned on me. When I do my research for my trips, I usually focus on the places and things I'd like to do and see and not on food. Food should be at the top of your list the next time you visit Maui.
This foodie guide basically is ten+ years worth of eating and research. Big kudos goes to my mom who could probably tell you about any eatery on Maui because she's eaten at them all. I actually heard of a couple of places on Instagram to eat at and her response was no don't go there, t's a tourist trap and the food's not actually good.
So, this guide is approved by mom which undoubtedly makes it the best places you should eat at while on Maui. I realize now that I didn't take nearly as many photos as I should have of my food, but it makes sense. All my dishes smelled and tasted so good, they were consumed way faster than I could've taken out my camera.
DA KITCHEN
This is probably one of the most authentic Hawaiian places you can eat at. It's become the place my family eats at directly off our flight because it's just 10 mins outside of the airport and right near the Costco. Here's how it goes - land in Maui, eat 'til we can't eat anymore at Da Kitchen and then pick up more food at Costco. It's all about food.
It used to be more like a hole in the wall, locals only stop but more recently more people have heard about it causing there to be long wait times multi times a day. And when I say hole in the wall, it's a term meaning the best possible, authentic type of place.
Try the fried spam musubi or if you're feeling super hungry and brave get the Notorious B.I.G. Moco. It's Loco Moco on crack, literally. If you don't know, Loco Moco is hamburger patties topped with fried egg over rice covered in gravy. Imagine that with four times the amount of food. That's the Notorious Moco.
ALOHA MIXED PLATE
Someone asked me the other day if I had Poke while in Hawaii. My response was, "I don't go to Hawaii for Poke, I go for the mixed plate". Really, poke may have been invented in Hawaii, but if you want real Hawaiian food you get mixed plate. Aloha Mixed Plate is the absolute must go-to spot in Maui.
I'm pretty sure everything on the menu is delicious, even though I don't think I've ever eaten anything but a Kalbi Ribs plate here. For you newbies, mixed plates are usually meat, rice and the famous Hawaiian macaroni salad. My family also highly recommends the Kalua Pig sandwich. It comes with some pretty tasty local farm grown sweet potato chips.
This was also a hole in the wall place but over the years they've really done amazing expansions and renovations. You'll most likely encounter a line here, as well.
ULULANI'S SHAVE ICE
Not all shave ice are equal. I'm telling you, it all comes down to the consistency of the ice. Some places just don't have the right kind of machines. Ululani's have the right kind of ice machines. Their shave ice is that melt in your mouth, super fine ice. Just like snow.
My new favorite flavor combination: Mango, Lilikoi (Passion Fruit) and Guava. The perfect tropical Hawaiian flavors.
There's a great location in the heart of Lahaina.
LEODA'S
I'm starting to think every recommendation on this list usually has a wait out the door. Leoda's is no exception. Unless you catch it at exactly the right time, like we lucked out on.
Leoda's is famous for their homestyle comfort food and homemade pies. My boyfriend and brother happened to order the special of the day and it was literally the only thing they both talked about the entire rest of the trip. They had the special pastrami sandwich that had caramelized Maui onion, sweet bbq sauce on a fresh potato roll. Oh boy was it incredible.
STAR NOODLE
Most of the spots I listed above are lunch spots, maybe dinner, but Star Noodle is a can't miss dinner spot. If you guessed their noodles are absolutely delicious, why yes you would be correct. You can't go wrote with the Hapa Ramen, Star Udon, Singapore Noodles or Pad Thai. Literally writing this is making me hungry.
Come here for the noodles, but order the pork buns, too. Pictured above. Best piece of advice I have is share. That way you can get all the dishes to try. That's why there's only one pork bun shown above! Normally comes in three.
Make sure you make a reservation, otherwise, like the rest, you'll definitely be stuck waiting!
JAPENGO
This has become my family's last dinner in Maui tradition. I don't know if it's more because of the view or the food. It really is a combination. Japengo is located inside the Hyatt in Ka'anapali perched just above the pool, overlooking the ocean. If you time it right, you can catch the sunset from your table. And there is nothing like a Hawaiian sunset.
Japengo does Asian, Hawaiian, farm-to-table fusion like no one else. Literally you can't go wrong with anything on this menu. My absolute go-to on the menu is the Japengo Fried Rice. The malasadas are delicious for dessert too. Though they're not quite Leonards on Oahu, they come with to die for dipping sauces. Guaranteed, you'll be liking your fingers.
Bottom line, come here for the food or come here for the view, either way you won't be disappointed.
KULA LODGE
We more or less stumbled upon the Kula Lodge this trip and were so surprised we had never visited before. Their food is delicious, but their location is the beyond. Located on the side of the Haleakala volcano in upcountry Maui, the vantage point from Kula Lodge is pretty much incomparable. You can see almost the entire island of Maui. They also have a really cute garden that has a very Hobbit-eque vibe. Its unique architecture just makes it they much more enticing to see.
I will also say the Caesar salad here is one of the best I've ever had. There was just something about their house-made Caesar dressing. I can just taste it now, yum.
MALA
Mala is the place to eat for ocean side dining in Lahaina. When I say ocean side, I literally mean on the ocean. There's maybe 3 feet between the ocean waves and Mala's windows.
If you like oysters, you have to try the Hood Canal Oyster Shooter (pictured above). In all honesty, it looks a bit suspect when it arrives at your table, but oh my, this is one savory, tasty shooter.
You can also head over to their sister restaurant located directly next door, Honu. The same breathtaking ocean views, but seafood and pizza based.
I hope my lack of food porn photos don't discourage you from putting these places on your food bucket list. I promised they will not disappoint.
Happy eating!
Yours Truly // Shannon