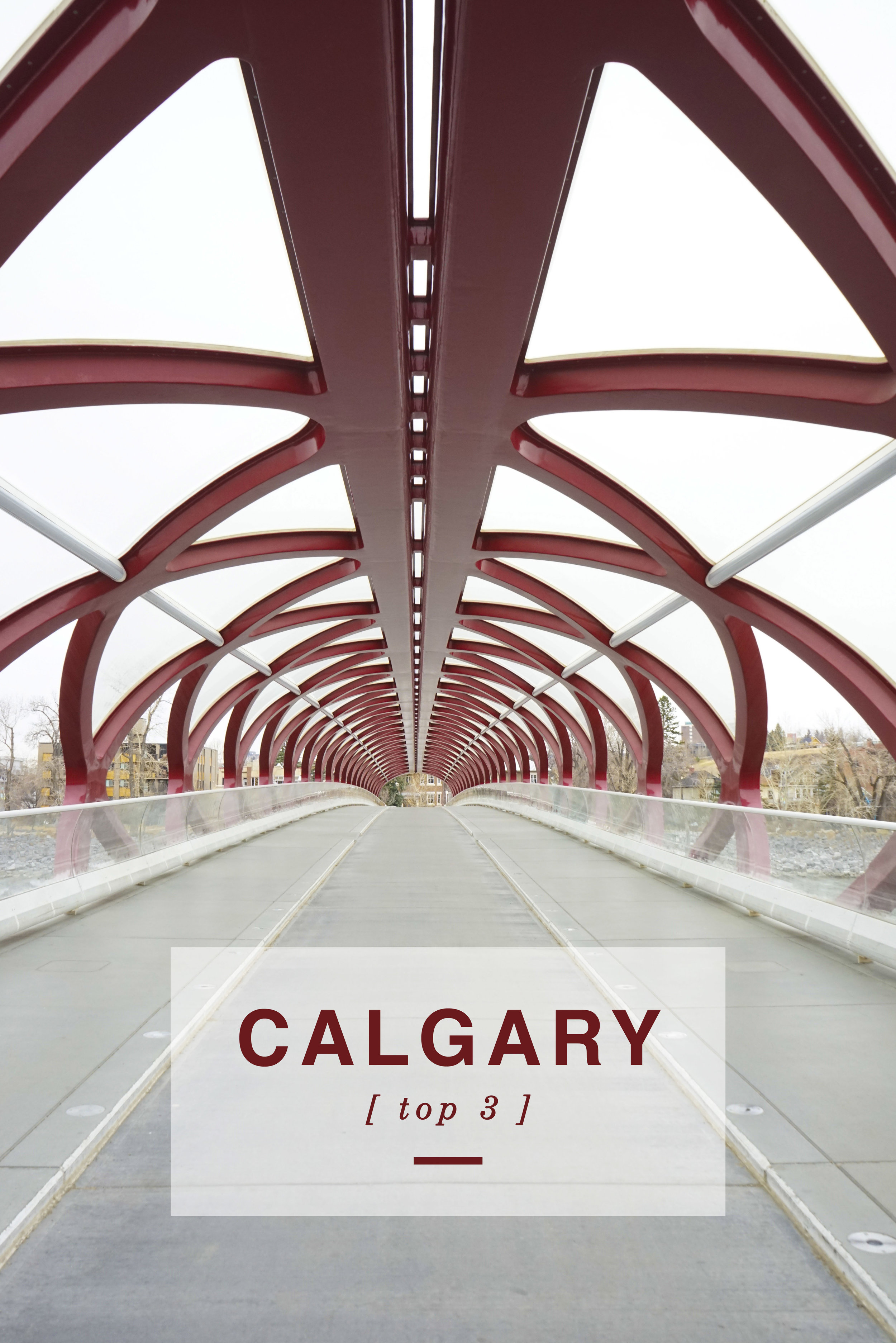 I've never been to Canada. Well, that should be in past tense. I had never been to Canada before. Honestly, the initial reason I chose to book a trip to Canada was because the roundtrip flight from Los Angeles was less than the cost of a trip to Arizona. Arizona borders California. Canada is a whole other country. Yes, it was that inexpensive. But, then I saw photos of Calgary and Banff - where I planned to visit this trip - and my mind was instantly changed. How could I have not known how many beautiful sites Canada had to offer?
With a full-time job, I had to take full advantage of a long weekend getaway, so I was left with only having less than a day to see Calgary before driving west to Banff. I can tell you though, it was well spent. I have no doubt that you could spend more time in this city, but for timing purposes, this was just enough time to see the top sites. Here are my Calgary Top 3:
one.
P E A C E B R I D G E
I always try to find the best, most photographic sites when I travel and the Peace Bridge definitely fit into that categorization. The design of this pedestrian bridge that crosses the Bow River is absolutely stunning. It really stands out as a piece of artwork, rather than just a foot bridge. Also, a stroll along the Bow River if you have time is great. You have the water next to you and the big city on the over side. Next time, I want to see the Peace Bridge at night. It it all lit up with lights and looks like a photographers dream. Well, it is that all the time.
two.
C A L G A R Y T O W E R
The Calgary Tower is reminiscent of the Seattle Space Needle. It is a 191-meter observation tower in Downtown Calgary. The highlight of the tower is the glass floor that extends out a couple feet off of the observation deck giving you an unobstructed view straight to the ground. And I mean straight down. It is not for the faint of heart. I don't get that spooked over heights, and it still ended up giving me a headache or just reaching for the nearby post. There is also a great restaurant over the observation deck that does a full rotation every 45 minutes.
three.
W O N D E R L A N D S C U L P T U R E A T T H E B O W
This giant sculpture of a young girl's head is by Spanish artist Jaume Plensa is titled Wonderland. It lives just in from of the Bow building. It is made of white bend wire. From far away it looks opaque, but close up you can see the mesh pattern. You can walk through the sculpture or just gaze at it from a distance to get the full effect. I read a description of the artwork that mentioned that by being able to walk into the artist's head, aka the little girl, you can peer out at the world from his view. It's a mystery what the real meaning is.
I think it's worth while to mention that there are a ton of delicious restaurants to try when visiting Calgary. With such short time, I was unable to try many of the ones I found online. I did, however, love the dumplings my friend and I grabbed from The Dumpling Hero truck. Try out the mac n cheese and hotdog dumpling. I have dreams about how good it was. Please just try if it you get the chance, it's not nearly as weird as it sounds.
Have you visited Calgary? It's pretty great, eh?
Yours Truly // Shannon